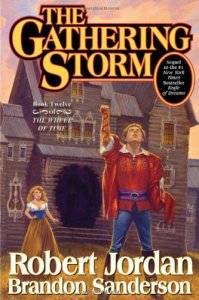 This weekend I finished reading the new Wheel of Time novel, The Gathering Storm. Now that I've read it, I can definitely say that Brandon Sanderson was a good choice to finish the series from Robert Jordan's notes, and that splitting the final book into three was the right approach. It may be a doorstopper, but it would be difficult to cut more than a tiny amount without diminishing the impact of what remained.
No spoilers unless you don't want to know which characters appear in the book. In which case, stop reading now. It focuses primarily on Rand, Egwene, and their respective entourages, though most of the other major characters make appearances. If I were to guess, the next book (Towers of Midnight) will probably focus mainly on Rand and Mat, and maybe Elayne. Katie reminded me that the title is a Seanchan reference, plus there's another mission — well, quest, really — being built up involving a tower. (Not to mention the White Tower and Black Tower, of course!)
As in Knife of Dreams (and unlike Crossroads of Twilight), things happen in this book! There's a growing sense of urgency throughout the novel, and everyone who can is pushing hard to have everything in place for the coming apocalypse. For some characters it's a personal journey. For others it's political. And for some, it's simply geographical.
As far as meshing with the rest of the series goes, the only thing that stood out for me was that points of view would switch in the middle of a chapter more often than I expected. It's not that Robert Jordan never did it, but I remember it being rare outside of the prologues. Brandon Sanderson is more likely to take what would have been two shorter, thematically linked chapters and combine them into one. Katie also noticed one spot early on that one character from Tarabon didn't speak with the Taraboner dialect — but only the one instance, and one in which the phrasing would have been awkward. It still reads like a Wheel of Time book.
I wish Robert Jordan had been able to finish his epic himself, but it looks like we're getting the next best thing.