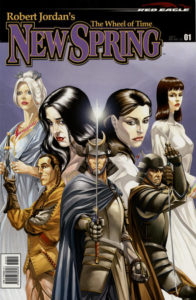 If so, it would be appropriate timing for New Spring (in the northern hemisphere, anyway). The Beat reports that Dynamite Entertainment is taking over "creative development, production, printing, marketing and sales for all titles handled by Dabel Brothers Publishing." The earliest books are supposed to ship in April 2010.
There's no specific word on New Spring or the ongoing Wheel of Time adaptation, but since New Spring #8 is reportedly "complete and ready for printing," it seems likely to be part of that initial April release.
If the book does come out in April, it will have taken nearly five years to complete the eight-issue miniseries (the first issue shipped in August 2005). Dynamite will also be the third company logo to appear on the cover, after five issues with Red Eagle Entertainment and two with Dabel Brothers' own label.
At this point I don't care much about the Eye of the World comics, since they only published one issue to start with (two if you count the prologue), but I'd really like to see New Spring finished!
Comic Book Resources has more on the deal.