Finally! Dynamite Comics has scheduled the final issue of Robert Jordan's New Spring for June, 2010.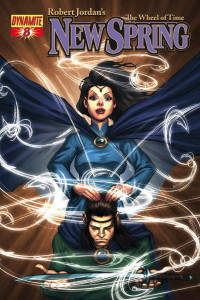 ROBERT JORDAN'S NEW SPRING #8

32 pages FC • $3.99 • Teen +

Written by ROBERT JORDAN w/ CHUCK DIXON • Art & Cover by JOE COOPER

The long awaited conclusion is here!

The Historic binding of Al'Lan Mandragoran as Warder to Moiraine of the Aes Sedai is upon us and the search ensues for the Dragon Reborn, so that he may be saved to fulfill his destiny and oppose the Dark One in an ultimate Last Battle. However, followers of the Dark One also know the prophecy and a desperate race ensues with the fate of all mankind hanging in the balance. The Adventure has just begun!
It looks like they've changed artists. Also, I don't recall Moiraine looking quite so much like Raven from The New Teen Titans. 🙂
The solicitations actually went out at the end of March, but I didn't notice since I was busy getting ready for vacation at the time. I have a Google Alert set up to catch news, but it turns out I never switched out "Dabel Brothers" for "Dynamite" in the search terms. Oops.
According to Westfield Comics, the planned release date is June 30, 2010. If it ships on time, that's seven months after Dynamite took over Dabels' catalog, almost a year after the previous issue shipped, and almost five years since the first issue was published in August 2005.
It's also the series' third publisher. The first five issues were produced by Dabel Brothers and published by Red Eagle Entertainment before the series went on hiatus. Then issues #6 and #7 were published directly by Dabel Brothers. And now #8 is coming from Dynamite.
Update: Dynamite has a preview of the issue on their website.
Update 2: It looks like it may be out a lot sooner!.
Update 3: Yes, I picked it up on May 12, 2010!