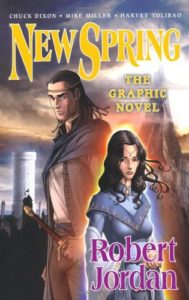 Spotted on the Dynamite forums: Amazon has New Spring: The Graphic Novel available for preorder, with a release date of January 18, 2011.
They're using the cover from the prose novel in the listing, which I assume means Tor hasn't submitted a cover yet. I'd say the cover from issue #1 of the comic book (shown here) would work just fine.
It's taken a long time (and three publishers) to complete this adaptation of the Wheel of Time prequel, even though it only covered eight standard-sized comic books. (Check out the New Spring-tagged posts here for the whole story.) I'm sure Tor Publishing was frustrated, since they couldn't actually release the collection until the individual chapters were complete, and Robert Jordan was extremely frustrated with the situation.
The same studio has also started adapting the main series. The third issue of Eye of the World arrived in stores earlier this week. According to this post, the original plan was for Eye of the World to cover roughly 36 issues, to be collected in six volumes. Just for book one.
Dynamite has been good at keeping the comics on schedule since they relaunched a few months ago, but at that pace, even if they never miss a month, it'll take 42 years to adapt the whole series!