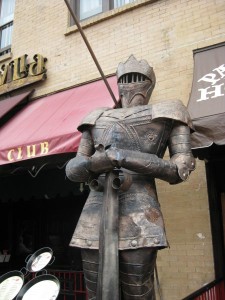 Friday night at Comic-Con, on arriving at a restaurant, I reached down to remove my badge and found that it was already gone. The lanyard was still around my neck, but the badge wasn't attached anymore.
Your badge is critical at Comic-Con: Not only do you need it to get into the building, but security will check again when you try to get into the exhibit hall or any of the programming areas. My badges always flip over, so I constantly have to turn them around so that staff can see that yes, I have a four-day pass and I'm not trying to sneak in with a Friday badge on Saturday. Then there are events or special offers that will mark or hole-punch your badge instead of handing out tickets, and others that will mark your badge when you receive an item to prevent people from taking more than one. On the weekend, it seems like every time you leave the convention center you'll run into at least one person offering to buy your badge if you're done.
I wasn't as worried as I thought I would be. I'd been there two days, and I'd accomplished the things I most wanted to do. There were still two events and an artist that I wanted to catch if I could, and I'd only really explored a fourth of the main floor (if that much), but my must-see events this year were all on Thursday. Plus I knew I'd had the badge when I started down the street, so I only had to search a small area. Looking back, I think I was fairly confident that I'd find it.
Still, I couldn't be sure that it would still be wherever it had fallen. It could have blown away, fallen down a storm drain, or been picked up by someone thrilled at their good fortune to be able to go to the con. Heck, a pickpocket could have snagged it.
As I retraced my steps, I started pondering what I might do in San Diego over the weekend: Plenty of touristy stuff. Sightseeing. Museums. Check out more ships. Head out to the zoo. Catch a movie. Finish reading Tongues of Serpents. Hey, that's a badge!
I'd lucked out: the badge had only fallen a few doors back, and had stayed put. Maybe a block, but a tiny Gaslamp-sized block. All thoughts of alternate plans flew out of my mind, and I rejoined the group for dinner.
I later found out that they do have procedures to handle lost badges, so it wouldn't have been a total loss, but I'm sure it would have been a pain to deal with on Saturday morning.
»Full index of Comic-Con 2010 posts and photos.
See Also: Convention Photos & Write-Ups