My first hint that something was wrong this morning was the extremely yellow sunlight coming in around the blinds as I got ready for breakfast, the color you expect right at sunrise or sunset, not after the sun's already up. Once I walked outside it was clear there was a fire somewhere in the area, and as I walked around the building I could see smoke filling half the sky.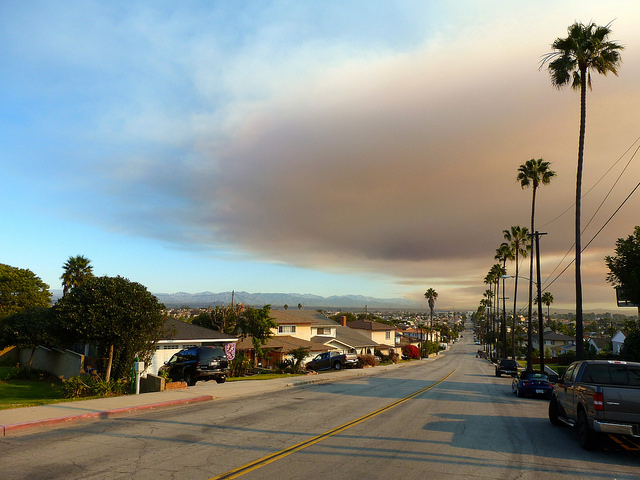 It only filled half the sky, though. The smoke rose from the fire near Glendora, at the base of the San Gabriel Mountains northeast of Los Angeles, and drifted south to Orange County before winds blew it west across Long Beach, San Pedro, and the Palos Verdes peninsula.
Off to the west of the plume, the skies remained clear. Clearer than usual, in fact, because high winds had blown all the smog out to sea over the last few days. To the north and west, the sky was a gorgeous blue, the mountains and distant city skyline crystal clear. (If you view the larger image on Flickr, you can spot downtown LA right next to the first telephone pole on the left.) Smoke in the southeast turned the sun orange, bathing the area in light more suited to the golden hour.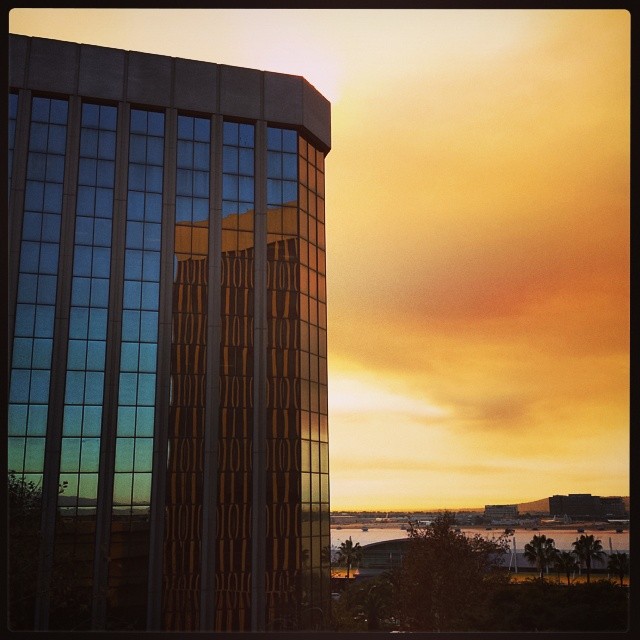 A few miles north and a bit later, this view looking south shows the clear blue northwestern sky reflected in the building, the smoky southern sky behind it, and another building lit orange by the smoky sunlight.