Usability researchers like Jakob Nielsen have long contended that people read differently online than on paper: they tend to skim, follow links, and jump off quickly if they don't find what they want. (Rather than being judgmental, Nielsen simply advises that you tailor your online writing to this.)
Now the Washington Post reports that people are observing a spillover effect, with online skimming habits interfering with concentration when it comes to more in-depth reading…even when reading print.
Sadly, the article mostly distinguishes between two modes of reading:
Online skimming of casual articles and social media on screens.
Serious reading of novels and in-depth content in print.
There's nothing to distinguish, for instance, reading on a dedicated e-reader (without the siren call of Facebook or hyperlinks) from reading on your laptop. Nor is there anything to distinguish casually reading on your phone's tiny screen from reading at your computer, or sitting on the couch and reading on a book-sized tablet.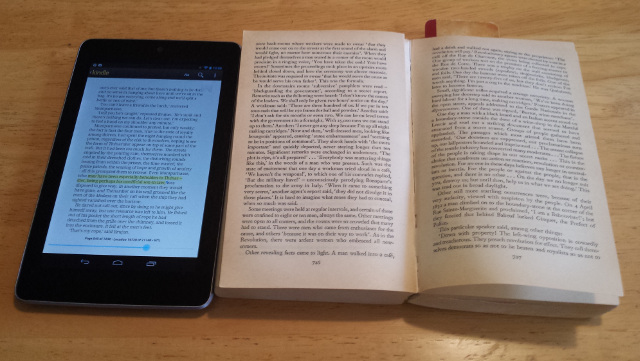 Personally, I've found display size to be the biggest factor in maintaining attention. I get tired of reading on my phone, and I tend to skim on a desktop or laptop, but a handheld tablet (I have a Nexus 7, which is close to the size of a paperback book) works out about right. I'd much rather read a long article on that tablet than on a computer, even with the browser window sized for optimal column width.
So yeah, it's much easier to concentrate on something long in a book than on a desktop or cell phone…but an ebook reader or a tablet is a lot closer.
There are still tradeoffs: My Les Misérables re-read changed drastically when I switched from a paperback to my tablet…not because I couldn't concentrate on long passages, but because my method of notetaking changed. My reading actually sped up, but my commentary slowed down. (It did ultimately take me longer than I expected to finish the book, but only because I had so many other books I wanted to read, and ended up taking breaks and reading them instead.)
The main problem I do have with a tablet isn't continuing to read, but starting to read. Even without a wifi signal, it's tempting to catch up on email, or saved articles in Pocket, and before I know it, I'm done with lunch and I haven't even opened the book I'd planned on reading.