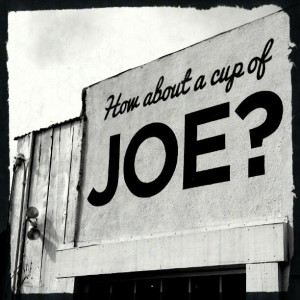 Though their signature drink is a mean Flat White, Two Guns Espresso in Manhattan Beach has the perfect mocha: just the right balance of coffee and chocolate and not too sweet. If they were open in the evenings, I'd stop on the way home from work waaay too often.
For the past few weekends, Two Guns has also been hosting pop-up dinners by Doma Kitchen, a local restaurant that's in the process of relocating. It keeps them in the public eye, gives regulars a chance to visit, and I'm sure it helps to bring in some money while the restaurant is closed. The fixed menu is a bit more expensive than what we usually buy there, but it's a three-course meal including appetizer and dessert (and coffee), so it actually worked out about the same.
Considering that we all like both the coffee shop and the restaurant, it seemed like a perfect match, and we went last night. They added extra seating using folding tables in the area usually reserved for the line and milling around. I was worried when we were the only ones there at 6:30, but it filled up quickly.
The food was great, though I forgot to mention when I made the reservation that I couldn't eat seafood. (I don't remember seeing seafood on their menu before, but I guess I just ignored it.) Fortunately it was a three-course meal, and my seafood allergy is less severe than others I have, so we rebalanced things a bit and it worked out.
The funny thing is, from what we overheard of the greeting conversations (we were seated right by the door), most of the people there last night had never been to Two Guns before. We may have been the only overlap!