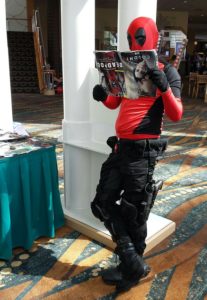 I've liked Long Beach Comic Con since it started, but this year was something else. They doubled the amount of floor space from previous years…and filled it. I think they doubled the number of programming tracks as well. And the fans came: I'd swear the place was busier on Sunday afternoon than it was last year on Saturday, and I had trouble finding parking for the first time ever.
TL;DR? Skip to the photo gallery if you must!
Last year I went with very specific goals in mind, because I'd been so aimless the year before. This year I wasn't sure until Friday whether I'd be able to make it or which day, so I held off on planning, but it worked out.
Keeping Artist's Alley as the centerpiece of the show has broadened it a bit into a show about comics and art.
There were comics dealers of course, and toy dealers. The collection of geeky cars, including OBISHWN, which is tricked out even more every time I see it, the TMNT van, and more. Star Wars Laser Tag. Cosplay Corner has grown from a few folding tables in one corner to an actual aisle. And of course Lobby Con.
I only saw Top Cow and Aspen of the well-known comics publishers, but of course there plenty of artists who have worked with DC and Marvel.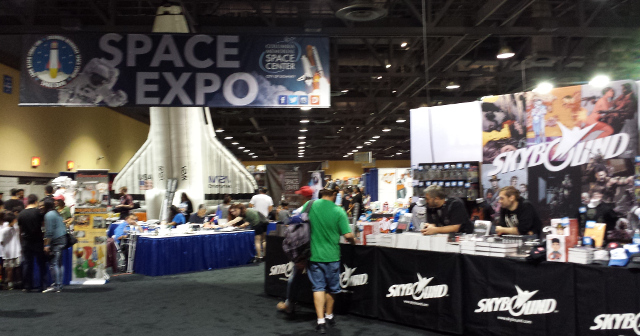 Space Expo 2015, presented by the Columbia Memorial Space Center, was a booth with meteorites, a space suit, and kids' activities (including robots!) and a track of programming focusing on real-world space exploration.
There were quite a few families on Sunday, and a kids' corner of the main floor with activities (or at least a zillion LEGO blocks). I went solo, but I totally could have brought the kid if he'd been up to it.
Freakiest costume of the day: The little girl leading her mother around on a leash attached to some weird metal mask/collar.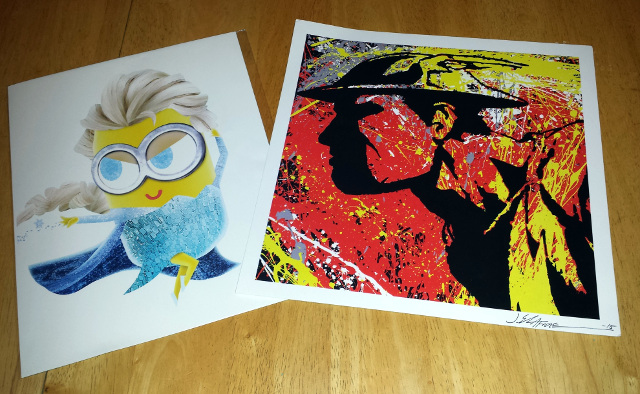 I bought a few books and some art prints. Not sure where I'm going to put them, but there's a Jay Garrick splatter-paint by Jim Calafiore that needs to go on the wall somewhere, and a Minion/Elsa mashup by Minion Me ready for the kid's room once we get it framed. (He wanted to put it up right away when I got home and showed him, and we've had to constantly keep on him over the last few days to keep him from accidentally crumpling it in his enthusiasm.)
Speaking of Minion mashups, my Les Despicables shirt was a hit. I couldn't remember where I'd bought it, but for the record: Shirt.Woot, and they still have it available.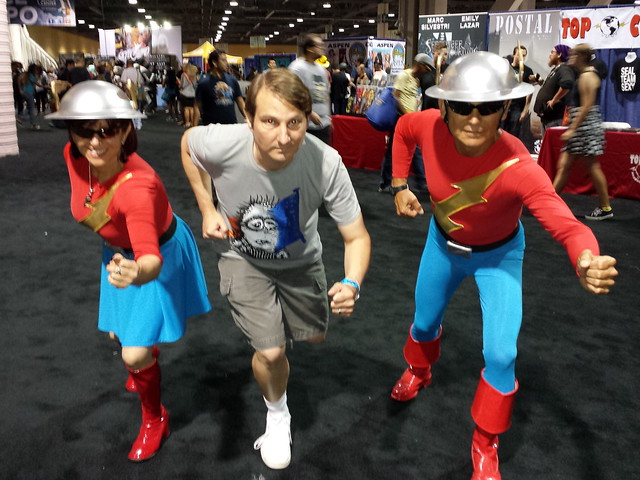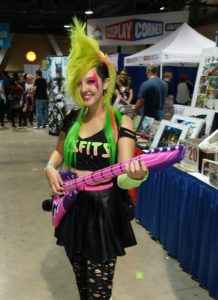 I also stopped to talk with Samantha Newark, the voice of Jem, on Katie's behalf, and bought the CD she and Patricia Albrecht (Pizzazz) did based on the current Jem and the Holograms comic book.
I didn't make it to any panels this year, mainly because I was only there on the short day. And I learned that I no longer have the patience to search through unsorted boxes for deals. Half-price trades, dollar bins, whatever, I can get through maybe a third of a long box before I start looking around for something else to do.
Though I did find out there's a comic book adaptation of Condorman starring Michael "The Phantom of the Opera" Crawford. I'm not sure that knowledge makes my life more complete, but maybe there's still something to say for trawling the long boxes.
LBCC was held September 12-13, 2015. See all my photos from Sunday on Flickr.
See Also: Convention Photos & Write-Ups