For the first time ever, we attended three days of a comic-con with the whole family. Including cosplay! (Well, one of us did)
WonderCon was back in Anaheim this year, and it felt like a homecoming. The Anaheim Convention Center is just a better fit for the con than LA. The fountain area is a better gathering spot than the LA lobby. The programming rooms are much easier to get to. Plus the food's better, even before you add the food trucks, and the plaza in front is a better place to put them. (Speaking of food, just about every place had at least a vegetarian option, and there was a whole truck dedicated to falafel.)
Casual Cosplay
Katie broke out her Whitney Frost (Agent Carter Season 2) outfit for a second con. Since it didn't start until afternoon, and we needed to wait for school to let out, we had the whole morning to do the effects makeup. She had much better results this time around: Lots of people recognized her, and lots of people asked for her photo. She even ran into a couple of Peggy Carters. On Saturday she went with something more low-key: Kara Danvers (aka. Supergirl), complete with a coffee cup labeled "Kira." That one was more subtle, but when she was standing next to a Supergirl, someone would catch on every time.
As for the general cosplay atmosphere, the only major trends I noticed were an increase in Wonder Women and Belles (for obvious reasons). Also, Jokers are leaning toward the Jared Leto version, Harley Quinns are branching out again, and people are starting to put together impressive DC movie-style Justice League costumes.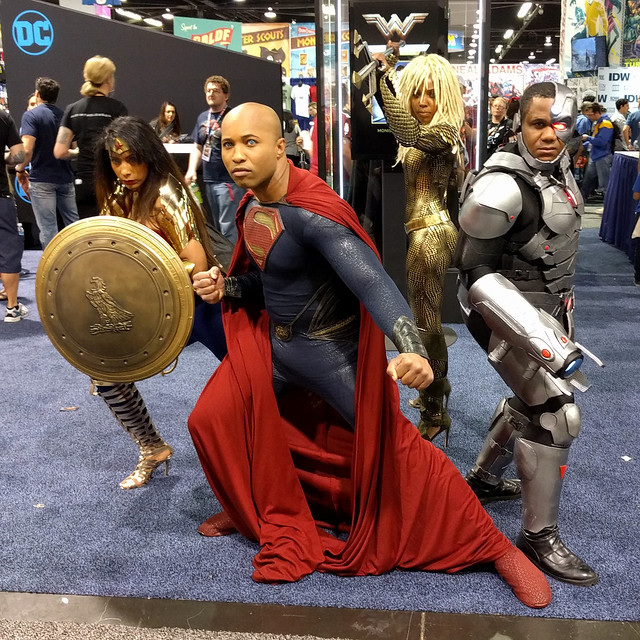 Kid Stuff
The kiddo (now six) came along with us all three days: Friday afternoon, all day Saturday, and all day Sunday. Friday went great. We explored the toys, played video games, and he talked us into buying a Minecraft-themed Mystery Chest at one of the toy booths. (I think he only actually cares about 1/3 of the stuff that was in it, but the box was a hit.) He trounced me at Street Fighter. Repeatedly. But I managed better with the Chip'n'Dale retro release, which Capcom had set up in a replica of a Totally 90s kids' bedroom. (It was eerie!) Saturday was a bit more of a challenge just because we'd all missed sleep, and we were there more of the day, but we only had one moment where he was so overwhelmed that he needed a break, yet insisted he couldn't leave.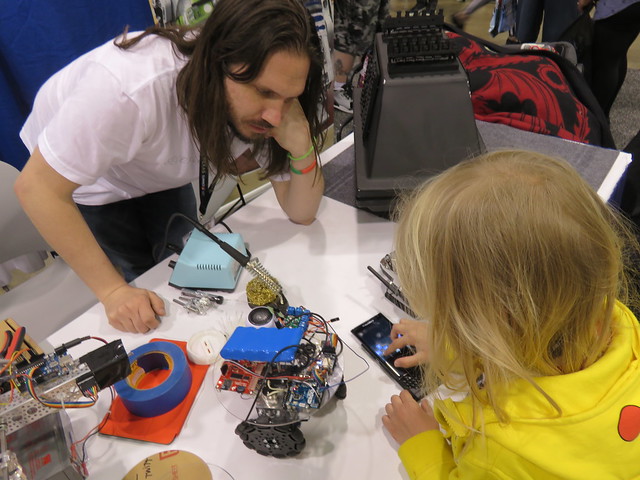 He was fascinated by the R2-D2 and BB-8 droid builders. He insisted on going back several times, and was reluctant to leave each time. He really wanted to use one of the remotes, and kept asking me, and finally I had to ask the guy who built it to tell him, because of course he wouldn't take it from me that he couldn't. But once he was convinced, he started asking really good questions about what materials are used, what tools, how long it takes to build, and so on. Two of the BB-8 builders were very patient and willing to show him how the mechanisms and electronics worked.
He also borrowed my camera on several occasions. His photos fall into two categories: completely unplanned, and very carefully framed with an unusual but interesting sense of composition. There's no middle ground.
Floor and Panels
I didn't have any specific goals this time, and that was actually OK because I was helping someone else explore. I regret not having a chance to really browse Artist's Alley or the small press/art section, but we checked out a lot of the craft/maker booths — the kind that are still staples at medium cons like this but priced out of San Diego.
Friday was busy, but very comfortable to walk around. Saturday and Sunday were noticeably more crowded, but never to the manic or cattle-drive level that SDCC reaches. The con is using the entire convention center now — all the programming rooms, the arena, three of the four main sections for the exhibit hall, and the remaining section for registration. Well, everything but the basement.
I did make it to the Chris Roberson spotlight, which was cool. Katie attended two panels: one with fantasy writers talking about how to mix fantasy and the mundane, and one on cosplay effects makeup. (Sadly, it was on the day she was dressed as Kara, not the day she was dressed as Whitney Frost with Zero Matter spidering across her face.)
Getting There
Parking was…well, better than downtown LA, but a disaster compared to past years in Anaheim. They didn't share the Disneyland overflow lot, and they didn't share the Garden Walk structure, and the old convention center structure is buried under construction of the new building–so they were sending people two miles away to Honda Center on Friday, and Angel Stadium the rest of the week. We dropped Katie off as the car crawled past the convention center in heavy traffic Friday afternoon, and it took a full hour to get to the stadium lot, make several U-turns to look for the unlabeled entrance (the only sign for event parking was on the wrong driveway), and ride the shuttle back.
That evening it took us over an hour to wait for the shuttle out. We left the con at seven, but didn't get on the road until 8:30!
(Registration went fast, though. They mailed out badges in advance, so most people didn't even have to get in line. It only took about 5 minutes to pick up J's child badge. They kept the RFID scan in/out scheme for adult badges, but all the events/floor/programming were inside the same perimeter, which made it a lot simpler.)
Saturday I prepared to drop Katie off at Garden Walk and noticed that even though they weren't doing event parking, the standard rate was $15 for 12 hours. So we parked. Easy walking distance, even with a six-year-old. Well worth an extra $5. And we were able to grab dinner on the way out (at Johnny Rockets, which amazingly is still there, next to the newly-moved House of Blues and absolutely nothing else) without worrying about missing the last shuttle.
Strangely enough, we didn't see any protesters the entire weekend. Did they give up? Did the city not issue a permit? Did the convention center ban them? I have no idea. But it was nice not to be yelled at by judgmental jerkwads every time we walked outside.
All and all, a successful convention. Head over to Flickr to check out my full photo gallery!
See Also: Convention Photos & Write-Ups