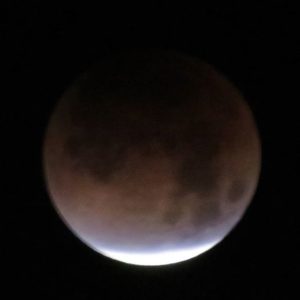 I woke up way too early to see if the Super Blue Blood Moon* eclipse would be visible or blocked by clouds. (You never know, and I didn't want to wake up the kiddo in the middle of a school night if there wasn't anything to see.) I had a clear view, but the street lights were too bright to see the red color. It just looked dull brown.
So I took a couple of pictures, then went back in to wake up the kid. He still wanted to go out and see, but only for one look. Totally understandable. I carried him out, we looked at the darkened moon, then I carried him back in and put him back to bed.
It's the third lunar eclipse he's seen, though one of them we didn't get to see much of since it was so cloudy. And while it's not as cool as a total solar eclipse, it's something you can see with no special equipment by walking out into your front yard anywhere in the world that has a view of the moon during the several hours it takes the Earth's shadow to move across it.
I went back out one last time to try for some photos of totality, but they didn't come out any better than the ones I took the first time. I looked around for a spot that might be darker and still have a view of the moon (without trespassing in someone else's back yard), but didn't see one — there are way too many lights at night these days. Then I tried to place the constellations I could see, and failed. Then I went back in to go back to bed.
Unfortunately I don't think I really got back to sleep, so I've been dragging all morning. The interruption didn't help the kiddo either, so getting him to school was a bit of a challenge.
*Blood moon: lunar eclipse, Earth's shadow darkening the moon & turning it red. Cool to see, widely visible.
Super moon: full moon during closest point in orbit, looks slightly bigger.
Blue moon: 2nd full moon in a calendar month, otherwise no difference.