Katie and I seem to do vacations in pairs. We'll go somewhere on a trip, then a year or two later come back and do all of the things we discovered but couldn't find time for the first time around. Last April we went to Las Vegas for an extended weekend, did some sightseeing, saw some shows. This year we came back mainly for the shows, and did the trip during the last week of March, driving out on Monday and returning Friday evening.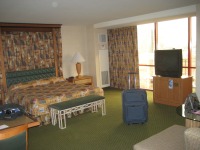 We stayed at the Rio, which has very nice, huge rooms—even if we didn't spend much time there. The casino floor is also surprisingly easy to navigate, unlike some of the mazes on the Strip. We're probably the only people to stay there four nights and not to see the "Show in the Sky" (some vaguely Mardi Gras-ish production they do with floats that run on tracks in the ceiling).
Of course, it is a bit off the Strip: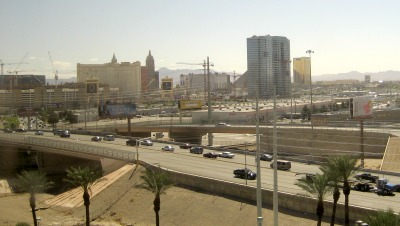 But at least it wasn't as far off as the last hotel we stayed at.
We managed to catch Spamalot (which replaced Avenue Q at the Wynn), Cirque du Soleil's O (the one with the water), Penn & Teller's magic show, and Jubilee! (a traditional-style Vegas extravaganza, and yes, the exclamation point is part of the title). Continue reading →