In honor of the release* of Safari 3, here's a little something we found at Trader Joe's.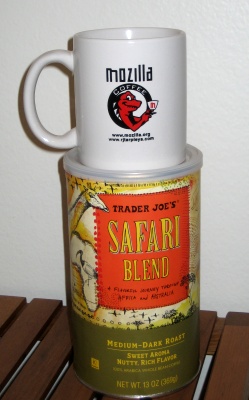 The mug is from the short-lived Mozilla Coffee. It seemed appropriate. Now if I can just track down some Opera Coffee, or Explorer Coffee…
*Safari 3 was included in Mac OS X 10.5 Leopard, released 2½ weeks ago. And it's included in the 10.4.11 update for Tiger, released today. An updated version of Safari was released today for Windows, but it's still a beta, according to Apple's website and the license (even though the about box just says it's Safari 3.0.4—the same version that's in Leopard). I'd been planning to hold this until all 3 releases were out, but clearly they don't feel that the Windows version is quite release-quality yet. So, on the premise that two out of three ain't bad, I'm posting.