Yes, it's real! Last week Katie remarked we were running low on coffee, and I remembered an article on MozillaZine a few weeks ago about RJ Tarpley's Mozilla Coffee. I figured, what the heck, let's order some. It's a way to get coffee and support Mozilla at the same time.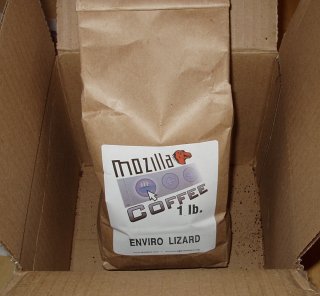 We went out for a late lunch/early dinner today, and as we came up the stairs we noticed a note tucked into the doorframe. At first I figured UPS had left a "sorry we missed you" note, but when we got up to the landing, the doormat was propped up on a six inch tall box! (That and it turned out to be FedEx, but I digress.) "Hey, no one will notice if we hide this under the doormat!"
We haven't tried it yet, but we'll post the results of our taste-test once we do.