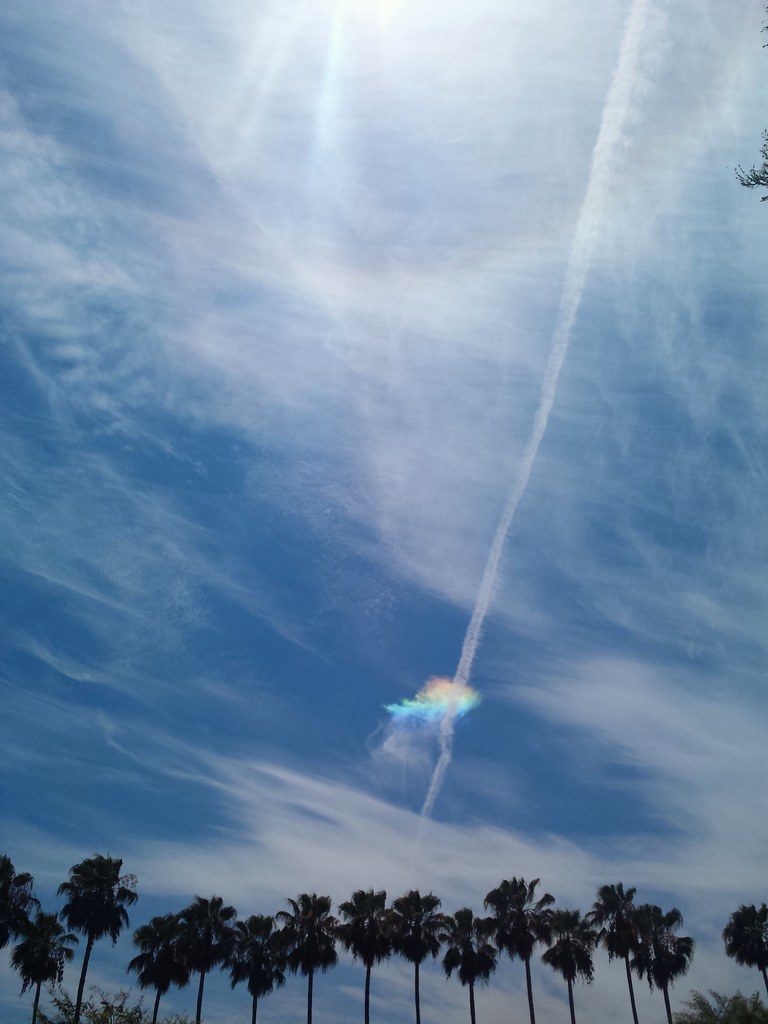 I noticed the halo around the sun as soon as I walked out the door for lunch on Thursday. The rainbow cloud? That appeared as I walked past a building. I saw it as soon as the southern sky came into view again.
The colors got more intense over the next few minutes, and I kept taking photos until my phone locked up. I stood there watching the colors intensify, then fade, while I pulled out the battery and waited for the phone to reboot.
A man who'd been sitting nearby, buried in his phone, looked up wondering what I was taking pictures of. He'd never seen anything like it before, and wondered what it was, and fortunately I was able to answer.
At the right angle, ice crystals in a cirrus cloud refract sunlight to produce a feathery rainbow effect. The circumhorizon arc runs parallel to the horizon, and while it can be long, it's usually only seen in fragments like this. I've only seen a few of these myself, and it's been years since I've seen one this intense. I took this photo through my polarized sunglasses, but the colors were bright even without them.
When my phone froze, he offered to send me one of his pictures just in case mine hadn't actually saved. Fortunately they had, and I actually posted to Flickr several hours before his message made it through the cell network.
Within a few minutes, the cloud had drifted out of alignment, and the colors had faded completely.
An hour later, on the way back from lunch, I noticed a longer patch in a smoother cloud layer, but it was faint enough that I could only barely see it with my sunglasses on. Without them, it faded completely into the glare.
If I'd had my better camera with the zoom lens, I would have gotten some better shots of just the bright cloud. Then again, I wouldn't have been carrying it with me to lunch, and the effect was gone in the time it would have taken to run back in and get it. So it's probably just as well I stayed and watched instead.
Funny thing: I posted a cropped view on on Instagram featuring just the arc fragment and contrail. When I went back to look at the #rainbowcloud tag last night, I found no less than SIX other photos of what was clearly the same cloud at various points in its five-minute lifetime!