During the last week of February, we drove up the California coast from Orange County to San Francisco, stopping in various places to visit friends and family and see the local sights. It wasn't an exact repeat of last year's trip, but we did redo Hearst Castle the second day out.
Day 1: Tuesday — LA to SLO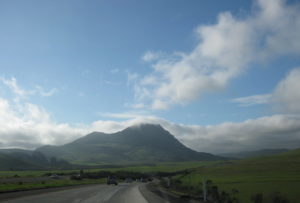 We left Tuesday morning (February 24) after eating breakfast at the Gypsy Den in Costa Mesa, took a relaxed drive up the 5 and Highway 101 to San Luis Obispo, stopping in Santa Barbara for lunch. From SLO we cut across to the coast and up to San Simeon on Pacific Coast Highway. After we checked into our hotel (the Best Western Cavalier again, since it really impressed us last time), we headed into Cambria for dinner at a restaurant called Robin's.
One of the things we tried to do on this trip was to always eat at local restaurants rather than familiar chains, just to try something new. Overall, that worked out really well. The only real misstep was a crepe place in Monterey.
Funny astronomical timing: Last year we were in San Simeon the night of a lunar eclipse. This year it was ideal viewing time for Comet Lulin. After trying to spot it from the hotel grounds, I finally drove out of town a few miles for stargazing. It was a fantastic view, but the comet was too faint for me to see.
Day 2: Wednesday – Seals and Hearst Castle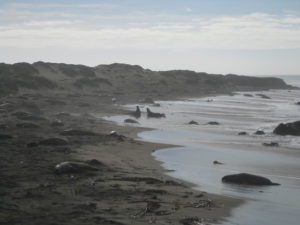 Anyway, we spent most of Wednesday near San Simeon. First we drove up the highway a bit to a viewpoint near the Piedras Blancas lighthouse to look at the elephant seals that crowded the beach. Most of them were just lying around relaxing, but every once in a while one would move, and I saw a couple of seals fighting, and a couple of seals, um, doing something else.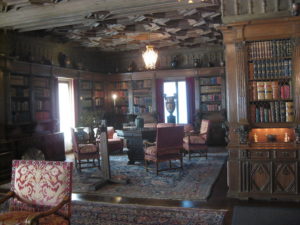 Hearst Castle took up the bulk of the day, as we took two tours, one before lunch and one after. In the morning (after the seals) we toured the Casa del Monte and the North Wing (one of the latest additions to the house), showing interesting contrast in design and decoration style. Then we came back down to the visitor's center, had lunch in the cafe (which was surprisingly good — probably because they used Hearst Ranch beef for the barbequed beef sandwiches and the chili), and went back up the hill to the next tour, which covered the upper floors of the main house.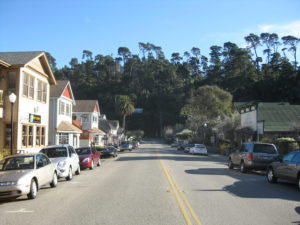 We stopped in Cambria on the way out, where Katie hit the local yarn store and I explored the nearby shops. There was one that had a huge collection of gemstones and fossils, including a lot of humongous geodes. Then we headed inland along highway 46 to pick up the 101, because I really didn't want to drive the stretch of PCH between San Simeon and Carmel! (Winding road with 100-foot sheer drops into the ocean, during late afternoon and running past sunset? I don't think so!) Along the way I kept looking for the turnout where you can see all the way to Morro Bay, and I found it. I managed to get a shot with sunlight this time:


We originally planned to meet up with my aunt in the Carmel Valley area, but the timing didn't work out, and by the time we made it to Pacific Grove I was ready to just collapse into bed. Fortunately the motel was a pleasant surprise (we experimented with using Hotwire for nights when we weren't looking for a specific hotel): we got the Anton Inn, which was a tiny little motel surrounded by other motels way off the beaten path, but the staff was friendly, the rooms were very nice and comfortable, and the rooms were stocked with a variety of books! The only real downside is that the area has very flaky cell reception.
We walked about half a block to an Asian fusion restaurant, where I had some sort of citrus duck dish. There was only one other party in the restaurant the entire time we were there, but the food was very good, making me think they probably depend heavily on the tourist season (which is not late February). Then we walked back to the hotel, read a bit to unwind, and hit the sack.
Speaking of which, I should do that now. I really didn't think it would take this long to write things up! (Plus my internal clock keeps telling me it's only eleven.) Photos are up on Flickr in my California Coast photo set, with a separate WonderCon photo set. I'll write up more of the trip later this week. Continued in Monterey and Carmel.