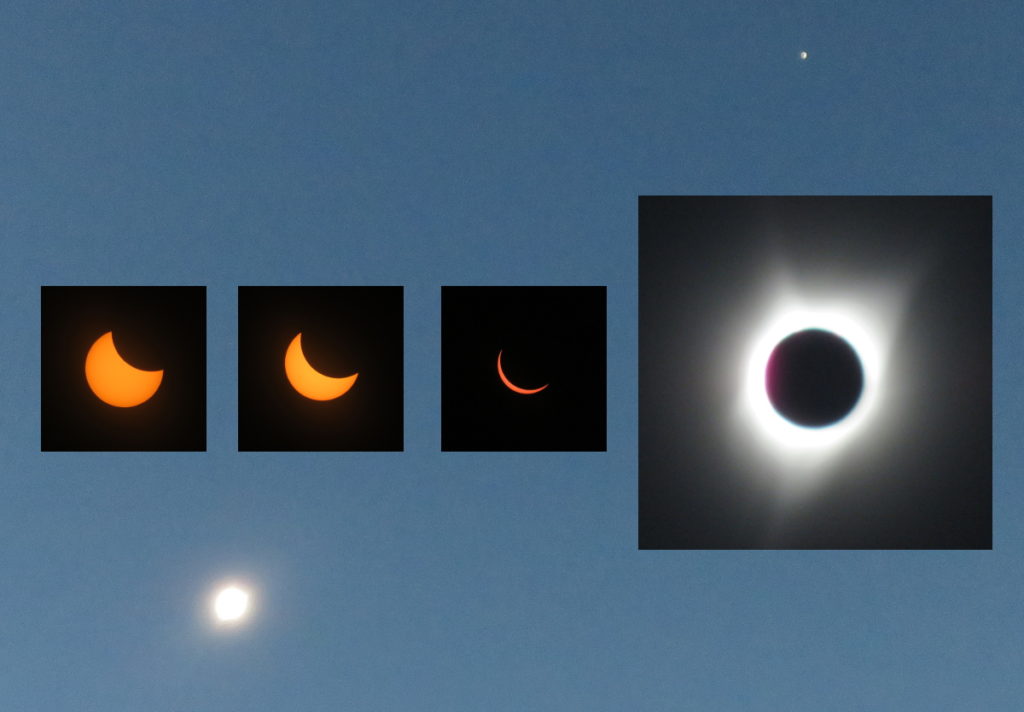 I've always wanted to see a total solar eclipse, but until now I never had the opportunity. I've caught a number of partial solar eclipses over the years, and quite a few lunar eclipses. This year's "Great American Eclipse" was perfect: it passed close to Portland, where we have family, and we could visit friends on the way up.
By the time I reserved our hotel there was nothing left inside the path of totality, but we could still get an expensive room in Portland. I reserved that immediately for the nights before and after, then a motel for a few nights before so we would have time to visit, then we planned out the trip up and back.
Driving Into the Path
The morning of August 21, we got up at 5:30 to drive south into the path of the eclipse. We didn't actually make it out the door until at least 6:30, and the parking attendant had lost our key (fortunately we had two, and they did eventually find it that afternoon), and then we got lost trying to find an ATM in case we had to pay a ton to park in someone's field (one way streets and bridges and driving into the early morning sun), but we got on the road toward Salem by around 7:15/7:30, with our eclipse glasses, water, snacks/emergency food, and a very sleepy 6½ year old.
The threatened traffic jam carpocalypse didn't materialize. There were slowdowns, sure, but nothing we hadn't experienced on the way out of LA. Our nav system (which J. calls the "map lady") sent us onto a side road at one point, and we drove through the countryside a while before getting back onto the interstate.