I suppose it was too much to hope that the traffic spike from Smallville's Flash guest spot would translate into a long-term increase, but it seems to have dropped to normal levels after 1½ weeks: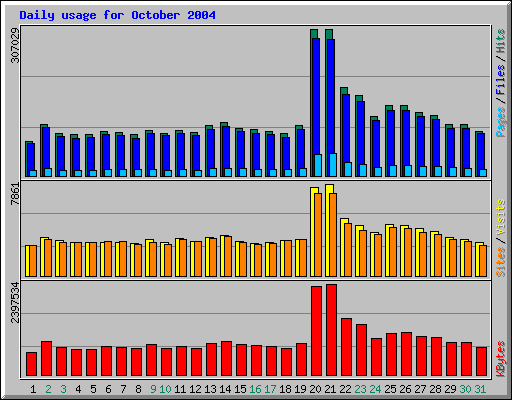 Daily traffic for Flash: Those Who Ride the Lightning (October 2004)
Still, it was a pretty huge spike, and I'm seeing a lot of new referrers as well. At one point the top non-search-engine referrer was actually Television Without Pity (although they seemed a bit confused about the reference they were linking to — they picked an alternate universe for Bart's "start a league" line instead of, say, the Justice League). Lots of Smallville and Superman forums, sites, blog and LiveJournal posts linked to Bart Allen (Impulse/Kid Flash), Bart Allen (juvenile delinquent) and Superman/Flash races. It's always nice to get some exposure outside of the usual sources, even if it is only temporary.