After last week's Smallville episode, "Justice," featured Cyborg, Aquaman, Green Arrow and the Flash Impulse, there was another spike in traffic to my Flash site and the profile of Bart Allen, Smallville Edition.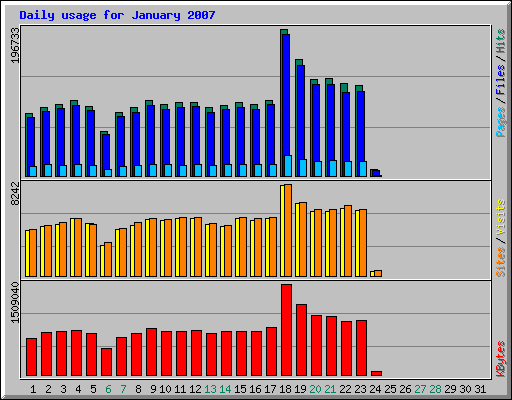 It jumped up to 1½ times the usual number of visits on the day "Justice" aired, then quickly started trailing off to normal levels. It's nowhere near as big a jump as last time the Flash appeared on the show, when I saw a threefold spike in traffic for the first two days.
Why the difference? I've got several theories:
Interest in Smallville has waned over time, so fewer people dropped in. Pure speculation.
Viewers remembered Bart from "Run" (which was rerun a few weeks ago) and many didn't feel the need to look him up again. Again, speculation.
Bart was sharing the limelight with other guest stars this time. But I'd expect people to look for all of them, which is borne out by the number of people who have searched the site for Green Arrow in the past week.
Overall site traffic is higher, causing the jump to be less noticeable. Wishful thinking, but the last spike hit ~7,600 hits/day, while this one hit ~8,200, so the numbers hold up. (Hits & bandwidth are down for the Flash section, but I've done several rounds of optimization in the last few years.)
Fewer sources linked to the site. Last time, there were lots of links from forums and blogs. I even got linked from Television Without Pity. (They decided to go with Wikipedia instead.) This time around, it was mostly search engine hits.