Well, June Gloom seems to be over, and we're now into the time of year when we get hot, sunny days with lots of clouds. Big, towering cumulus clouds, often with anvil heads, promising shade and rain to cool things down. The teases.
Yeah, we see those clouds most afternoons—on the horizon, just on the other side of the coastal mountains!
While it's great for summer activities—beach trips, swimming, hiking, etc.—it can also be frustrating when you have to choose between running your electricity-guzzling air conditioner all day or leaving your window open all night. The clouds are right there, taunting you with relief from the heat—relief that will not come.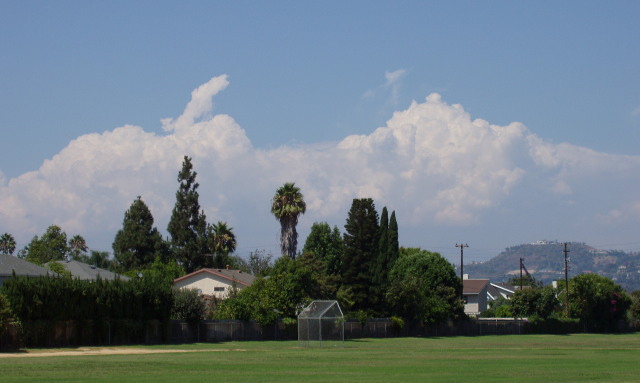 When I was in high school, my family took a vacation across the Great American SouthwestTM. We went to Bryce Canyon, Zion Canyon, and the Grand Canyon. We drove out to Mesa Verde, which wasn't a canyon, but there were still a lot of cliffs. We came back through Arizona, where we stopped by Meteor Crater and Sunset Crater. We joked that it was a tour of all the big holes in the ground. (A few years later, I posted some photos from this trip online.)
The weird thing about it was that we went during August, and we got rained on at least briefly almost every afternoon—but only outside of California. Utah? Rain. Arizona? Rain. Colorado? Rain. I don't think we got rained on during our three hours in Nevada (we stopped at Valley of Fire on the way out), but as I recall, the rain stopped about the time we crossed from Arizona back into California.
We don't get summer storms much here in SoCal.