Click to enlarge
We don't get snow here in the middle of Orange County (heck, this is the first time I've seen hail here in at least a decade), but we do get to see it from a distance. Mostly off in the San Gabriel Mountains to the north and northeast. While stopped at an intersection this morning, I caught a glimpse of the snow-covered range rising out of the clouds in the distance. Unfortunately this is the best shot I could manage on short notice: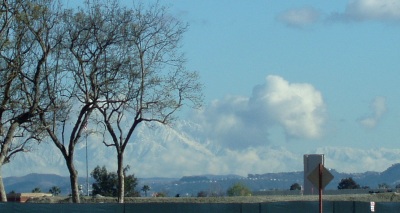 Click to enlarge
Once or twice each winter, a light dusting also falls on Mt. Saddleback. This winter's second snow hit over the weekend. This next shot is taken just a few feet from the first one, looking east instead of north.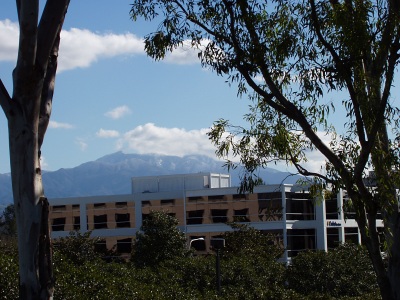 I had some much better views on my walk to lunch, but naturally, I forgot to bring my camera. So instead I'll post a photo from the aftermath of another snowstorm, taken on November 22, 2004: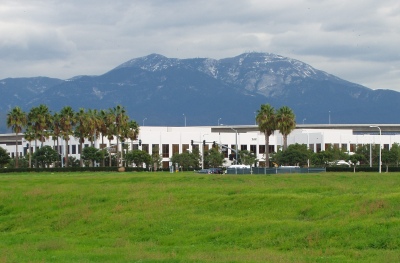 Update February 10, 2009: This post is getting a lot of traffic today, but it's from three years ago. If you want to see photos from this week's snow (and some from last December), check out my Snowline photoset on Flickr.