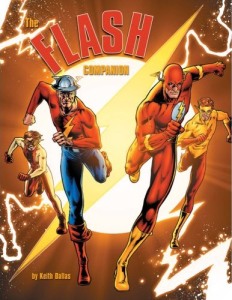 A couple of bits of news on TwoMorrows' upcoming book, The Flash Companion by Keith Dallas. This is the book for which I wrote several articles last fall.
First, the book has been scheduled for July 23, which brings it out just in time for San Diego Comic-Con.
Second, I noticed this week that Amazon is offering 26% off on pre-orders, bringing it to $19.81.
I'll let the official summary speak for itself (with a bit of reformatting):
The Flash Companion details the publication histories of the four heroes who have individually earned the right to be declared DC Comics' "Fastest Man Alive": Jay Garrick, Barry Allen, Wally West, and Bart Allen.

With articles about legendary creators Shelly Mayer, Gardner Fox, E.E. Hibbard, Julius Schwartz, Robert Kanigher, John Broome, Ross Andru, Irv Novick and all new interviews of Harry Lampert, Carmine Infantino, Cary Bates, Alex Saviuk, Mike W. Barr, Marv Wolfman, Mike Baron, Jackson Guice, Mark Waid, Scott Kolins, among others, The Flash Companion recounts the scarlet speedster's evolution from the Golden Age to the 21st century.

Also featured are "lost covers," never before published commission pieces by Flash artists throughout the decades, a Rogues Gallery detailing The Flash's most famous foes (including 3 profiles by the author of this website) a tribute to late artist Mike Wieringo by Mark Waid, a look at the speedster's 1990s TV show, and "Flash facts" detailing pivotal moments in Flash history. Written by Keith Dallas, with a cover by Don Kramer (Detective Comics, JSA) with colors by Moose Baumann (Green Lantern).
I've contributed three articles to the Rogues Gallery section, and a convention photo. I've had a chance to read some of the other articles and interviews, and this is going to be a great read for Flash fans!
Edit: One more item: This is small press, and I'm not the main author on the book, so I'm not getting paid for the articles I contributed. But I do have an Amazon Affiliate account, so if you order through this link, I'll actually get paid a little in a roundabout way.
See Also: Convention Photos & Write-Ups