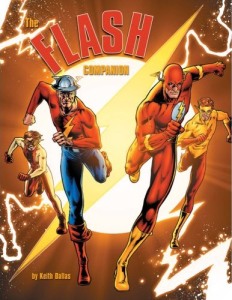 I just turned in final drafts for the last of three articles I'm contributing to TwoMorrows' upcoming book, The Flash Companion by Keith Dallas.
The book covers the entire history of the Flash, from Jay Garrick through Barry Allen, Wally West, and Bart Allen. It's full of articles, artwork, and interviews with writers, artists, with a cover by Don Kramer and Moose Baumann. My articles are part of the Rogues Gallery section.
The Flash Companion is due in June * 2008, and is already available for pre-order on Amazon.
Also worth checking out: some interesting tidbits on a related Comic Bloc forum thread. [Edit] Sadly, these were lost when the board crashed in May 2008 and had to restore from a 7-month-old backup.
Now, off to celebrate. Happy new year, everyone!
*Update: (January 10) – I've just been informed that the release date has been pushed back to July.