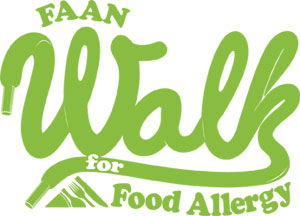 This weekend, I'm walking to raise funds for research and education in the FAAN Walk for Food Allergy. I have life-threatening allergies myself, and while my son hasn't shown any signs yet, the medical community is still trying to determine what causes people to develop allergies. It would be great if they find a way to guarantee that he won't inherit them, or at least to make life safer for him than it has been for me. (More about that in my previous post.)
A huge thank-you to those who have sponsored me so far: Jason, Wayne, Pavana, Marisa, Daniel, Devin, Greg, Damon, Jesse, Lia, Ken, aunt Julianne & Craig, and mom & dad.
It's coming up this Sunday in Santa Monica, California (near Los Angeles), and FAAN has other walks planned across the country.
You can help with any amount down to US $10. If you'd like to contribute, please donate at my fundraising page.
As I write this, I'm $230 away from the #10 spot on the top 10 list for the Los Angeles walk. Anyone want to help push me into the top 10?
Thank you!