Friday afternoon I was walking down Fifth with a couple of Subway sandwiches in my backpack. This section of the Gaslamp Quarter is almost entirely restaurants, and most of them have dining areas out on the street, with the host or hostess' podium right there on the sidewalk. I had spotted something odd ahead of me, but I'll let this overheard exchange speak for itself:
Hostess: "Come quick, or you'll miss something really cool! There's a sandwich in the street!"
Voice from inside: "Oh, I already saw him."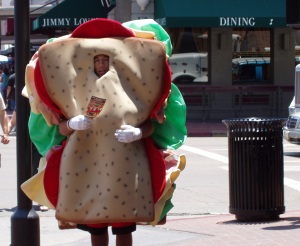 For the record, it turned out to be part of a big promotion for the movie, Accepted.
The convention clearly strains resources to the limit. These traffic cones, used for creating lanes for the shuttles and whatever traffic was allowed in front of the convention center, include such messages as "Reserved," "No Parking," and "Stop"—none of which applied to their current use!

Now, I have yet to figure out the connection between Playboy models and comic books, except that these days they do seem to have the same target audience. There were several models doing signings and photo ops around the hall. On Thursday morning, though, this model hadn't set up her booth yet. The bag on the table looked disturbingly like a body bag.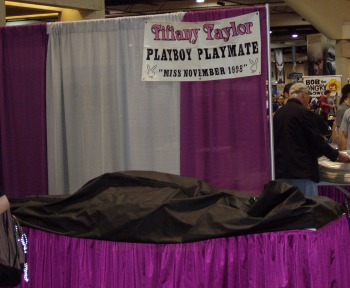 This last one actually has no connection to the con, but I forgot to post it on Monday. It's probably only funny if you're familiar with the BSD operating systems. (It took me a while, but I eventually realized BSD in this case meant Broadway San Diego.)