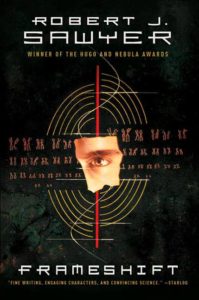 I've been thinking a lot about Robert J. Sawyer's Quantum Night the last few months. It links human cruelty, psychopathy, and mob behavior to the nature of consciousness, mostly focusing on the main characters but playing out against a global crisis brought on by a rising tide of xenophobia.
More recently, I've been thinking about Frameshift. His 1997 novel deals with (among other things) eugenics, Neanderthals, Nazis, and health insurance companies doing everything they can to avoid covering people with pre-existing conditions.
I can't imagine why that keeps coming to mind….