Remember last year when it was virtually impossible to get hand sanitizer? You couldn't order it online, you couldn't order it for an in-store pickup, and stores that had it were limiting how many of those tiny bottles each customer could buy? Breweries and distilleries were stepping in to supplement the supply, but it still wasn't enough.
I mean, I don't like to leave my camera visible in the car when I park, but for a while, I was more worried about leaving a two-ounce bottle of hand sanitizer where it could be seen.
Heck, when I found an 8-ounce bottle at Target in May 2020, I snapped a photo to send it home!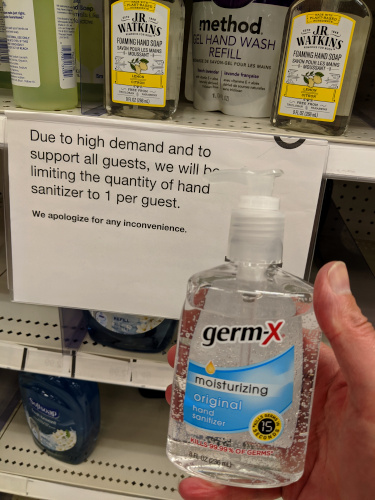 Times have changed.
Factory lines got up to speed after a few months. We bought extra to make sure we wouldn't run out. Then we learned that Covid spreads more by sharing air than by touching surfaces. And a third of the population convinced themselves it wasn't a problem, while half to two thirds of the population have gotten at least partly vaccinated against it. And after a year with multiple waves of cases, the rates are currently waaaaaay down in California.
And we're all so tired of it all.
And we don't need as much hand sanitizer as we thought we were going to a year ago.
This is the same store this week. Four rolling shelf units and at least one section of the wall shelving. Full.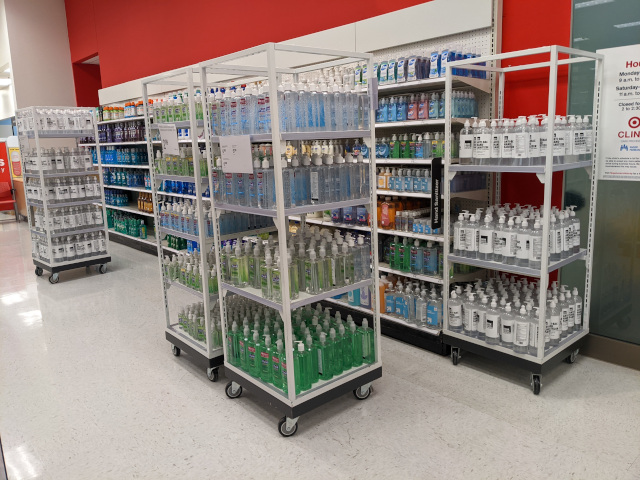 So, um, anybody want to buy some hand sanitizer?