Real Name:
Garfield Mark "Gar" Logan
Other Aliases:
Changeling
Occupation:
Adventurer
Past Occupation:
Actor
Known Relatives:
Mark and Marie Logan (parents, deceased), Steve Dayton and Rita Farr (adoptive parents), Matt Logan (cousin)
Group Affiliation:
Doom Patrol
Past Group Affiliation:
Titans
Base of Operations:
San Francisco
Hair:
Green (originally blonde)
Eyes:
Green (originally blue)
First Appearance:
Doom Patrol v.1 #99
(November 1965)
---
American biologists Mark and Marie Logan brought their young son Garfield with them when they began research in the African nation of Upper Lamumba. While there, he was bitten by a rare green monkey, and contracted an even rarer disease called sakutia. Desperate to save their son, they used an untested serum (or machine, depending on who tells the story) on him and saved his life, but turned his skin permanently green.
Some time later, Gar's mother was attacked by a black mamba, and Gar instinctively transformed himself into a mongoose to protect her. It was then that Gar discovered he could transform into animals.
Hard Knock Life
Gar's parents died in a boating accident while he was still young, and he was taken in by King Tawaba, chief of a local tribe and friend of his father. He was then captured by a pair of jewel thieves who brought him to America and forced him to help with their crimes. After they killed each other, he was found by a man named Nicholas Galtry. Galtry took over guardianship of Gar... and his trust fund, the only thing he really cared about.
Gar also met the Doom Patrol and the original Teen Titans, though Galtry would not allow him to join either team. He occasionally worked with the Doom Patrol under the nickname Beast Boy, and was eventually adopted by Steve Dayton (Mento) and Rita Farr (Elasti-Girl).
After the Doom Patrol was killed, Gar moved to Hollywood to pursue acting. His major role was Tork, the alien shape-shifter, on Space Trek: 2022. While in Los Angeles he joined the short-lived Titans West. When Space Trek was canceled, Gar returned to New York and the Dayton estate. When Raven brought together the new Teen Titans, he finally joined the team...but he wanted a new name: Changeling.
Changeling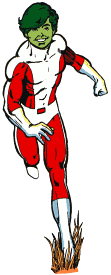 Gar became friends with the new Titans, particularly Cyborg, and his time on the team helped him release a lot of the anger left from his childhood and the number of loved ones he had lost. He remained on the team throughout its trials, though there was more pain to come.
The Titans took in a new member, Terra, who was about Gar's age. He fell in love with her, and was devastated when he discovered that she had betrayed them all to Deathstroke the Terminator, and had merely played him. Unwilling to believe she had been evil from the start, he blamed the Terminator for corrupting her, and swore a personal vendetta against the mercenary that ended, surprisingly, with the two of them talking things out in a diner.
Darkening
Changeling's life turned darker when the Brotherhood of Evil tricked him into stealing his father's Mento helmet. They tortured him with it, and the experience left him only able to transform into nightmarish creatures instead of normal animals. Things got even worse when Dark Raven implanted a Trigon seed in him, turning him completely evil. He was eventually captured by the Titans and put in stasis at S.T.A.R. labs until he could be cured.
The evil Changeling escaped just as Cyberion and Starfire arrived on Earth, and the Titans left on a mission to space that ultimately freed both Raven and Changeling from Trigon's control.
Beast Boy
Gar explored space with Cyberion until his once-human friend started to get too "weird," and Gar returned to Earth. Rather than join the next group of Titans, he went to Los Angeles to try to get his acting career going again, moving in with his cousin Matt. L.A. still knew him as Beast Boy, and while his acting career floundered, he and former Titan reservist Flamebird tried to put together a new Titans West team.
Nothing really panned out, though, until Beast Boy, Cyborg, and Starfire re-formed the Titans as a mentoring group, based in San Francisco. Younger than his teammates, but older than the teens, he tries to act as a bridge, but his wise-cracking personality is sometimes more of a barrier.
While in San Francisco, Beast Boy underwent another change. One of his parents' colleagues, Dr. Samuel Register, had also become infected with a mutated form of sakutia. Exposure to this second strain reversed the changes to Gar's metabolism, making him normal again, while the same virus gave all the children in San Francisco his shape-changing abilities. Register intended to cure himself even if it meant killing the children, and in order to defeat him, Gar reinfected himself. In addition to restoring his powers and turning him green again, this second exposure gave him pointed ears and fang-like teeth.
Doomed
The efforts of Superboy Prime to escape his cosmic prison altered the history of the Doom Patrol, bringing them back to life*. After spending most of a year trying to keep the Teen Titans going, Gar returned to the Doom Patrol to be with his adoptive parents.
Text by Kelson Vibber. Do not copy without permission.
---
Tales of the New Teen Titans #3: Changeling (August 1982), Marv Wolfman & George Perez
Teen Titans (third series) #13–15 (September–November 2004): "Beast Boys and Girls," Geoff Johns
Beast Boy (modern): Teen Titans/Outsiders Secret Files 2003 (December 2003) - Carlo Barberi and Marlo Alquiza
Changeling: Tales of the New Teen Titans #3 (August 1982) - George Perez
Tales of the New Teen Titans #3: Changeling (August 1982), Marv Wolfman & George Perez
Teen Titans (third series) #13–15 (September–November 2004): "Beast Boys and Girls," Geoff Johns
Who's Who in the DC Universe #3 as Changeling (June 1985)
The Official Teen Titans Index #1 as Changeling (August 1985)
Who's Who (loose-leaf edition) #2 as Changeling (September 1990)
The Titans Secret Files #2 as Beast Boy (March 1999)
Teen Titans/Outsiders Secret Files 2003 as Beast Boy (December 2003)
The DC Comics Encyclopedia as Beast Boy (2004)
The Doom Patrol (first series) (1965–1968)
The New Teen Titans / Tales of the Teen Titans/ The New Titans (1980–1996)
Beast Boy (4-issue mini-series, 2000)
Teen Titans (third series) (2003–2006)
The Titans (second series) (2008—)
Flash #1 (June 1987), Mike Baron
Countdown #43 (July 4, 2007): "The Funeral," Paul Dini with Jimmy Palmiotti & Justin Gray (cameo)
*In 2004, The Doom Patrol was re-introduced to the DC Universe as if they were entirely new characters (JLA #94–99: The Tenth Circle and Doom Patrol v.3, 2004). This erased much of Beast Boy's early life. During Infinite Crisis, the timelines realigned, restoring their history...but with the original team, including his adoptive parents, still alive (Teen Titans v.3 #32, 2006).