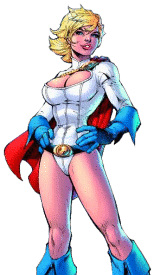 Real Name:
Kara
Alter Ego:
Karen Starr
Known Relatives:
Zor-L and Allura (parents), Equinox (son)
Occupation:
Owner of StarrWare, Inc. (Software Firm)
Base of Operations:
Brooklyn
Hair:
Blonde
Eyes:
Blue
Group Membership:
Justice Society of America
Past Group Membership:
Infinity, Inc.,
Justice League International
, Sovereign Seven
First Appearance:
(
All-Star Comics #58,
January–February 1976)
---
In the universe containing Earth-2, Kryptonian scientists and brothers Jor-L and Zor-L built spacecraft to escape the impending destruction of their world. In the end, each could only save their infant children. Jor-L's son Kal-L and Zor-L's daughter Kara arrived on Earth, making lives as that world's Superman and his cousin, Power Girl.
Revised
When the Crisis on Infinite Earths destroyed the multiverse and replaced it with a single, combined universe, Power Girl survived—but her history did not. At first she believed herself a lost cousin of Superman, and she fought injustice with various superhero teams including Infinity, Inc. and Justice League International.
It became clear that Kara was not from Krypton, and was eventually told that she was actually a survivor of ancient Atlantis before it fell. She was the infant granddaughter of the mage Arion, and had incredible magic potential. Unfortunately she was also possessed by the spirit of evil sorcerer Garn Daanuth. To save her, Arion had placed her in an alternate dimension that Daanuth could not reach, and so she awoke in the present day.
In the Justice League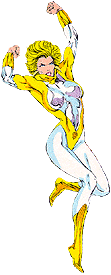 Shortly after joining the League, she was seriously injured in a battle with The Grey Man (an agent of the Lords of Order), vastly reducing her powers. She can still fly, and remains super-strong and partially invulnerable, but not to the same extent. In recent months her powers have begun to fluctuate. Sometimes she has heat vision, sometimes she is vulnerable to kryptonite, etc.
During her time with Justice League Europe, Kara exhibited mood swings and general crabbiness due to an allergy to diet soft drinks. Needless to say, she did not suffer Wally's hotheadedness or his then-womanizing ways gladly, and there were regular clashes between the two.
Also while in Europe, Kara became mystically pregnant as a result of spells cast by none other than Arion (though she believed it to be a result of a deal with a Chthonic Earth-mother deity). She gave birth to a baby boy in the midst of Zero Hour. Her son grew rapidly to adulthood, called himself Equinox, defeated a creature called Scarabus, and vanished. Arion, or his ghost, revealed that she was not Atlantean after all.
Truth at Last
At the urgings of the Psycho Pirate, Kara has finally learned her true origin: a survivor of Earth-2, cousin of that world's Superman..
Text by Kelson Vibber. Do not copy without permission.
---
Modern (white with cape): Infinite Crisis #2 (January 2006) - Jim Lee and Sandra Hope
JLE-era (yellow-and-white): Who's Who (loose-leaf edition) #6 (January 1991) - Bart Sears
Secret Origins #11 (February 1987): "Ancient Histories," Paul Kupperberg
JSA Classified #1–4 (September–December 2005): "Power Trip," Geoff Johns
Who's Who in the DC Universe #18 (August 1986)
Who's Who Update '87 #4 (November 1987)
Who's Who (loose-leaf edition) #6 (January 1991)
JLA / JSA Secret Files #1 (January 2003)
The DC Comics Encyclopedia (2004)
52 Week 36 (January 10, 2007)
All-Star Comics #58–74 (1976–1978)
Infinity, Inc. (1984–1986)
Justice League Europe/International (1989–1994)
JSA (2002–2006)
Justice Society of America (2007—)
Probably others
Flash #59–60 (February–March 1992): "Last Resorts," William Messner-Loebs
Flash #61 (April 1992): "The Old Wedding Dodge," William Messner-Loebs (cameo)
Green Lantern #30 and Flash #69 (October 1992): "Gorilla Warfare Parts 1–2," Mark Waid (cameo)
All-Flash #1 (September 2007): "Justice, Like Lightning," Mark Waid (cameo)
Power Girl was originally introduced as the Earth-2 equivalent of the Silver Age Supergirl. Like her counterpart, she was the cousin of Superman, who had been among a group of Kryptonian survivors, and had eventually ended up on Earth. After Crisis on Infinite Earths, DC wanted to make Superman the only Kryptonian survivor. Supergirl was first killed, then removed from history, and Power Girl was given a new origin.
JSA revealed that Kara is not connected to Atlantis, and began hinting that she might be Kryptonian after all. (Thanks to Doug Nasluchacz and Hakavon for the info!) With 2005's Infinite Crisis, Kara has had her original history restored.
(Thanks also to Comic207 for the name of Kara's son.)