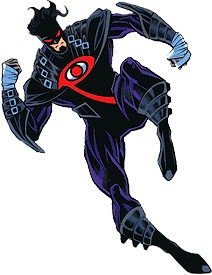 Real Name:
Nick Kovak, Jr.
Official Name:
Nick Kelly
Working Alias:
Nick Kovak
Known Relatives:
Nick Kovak, Sr. (father, deceased), Dina Kovak (mother)
Occupation:
Government Agent
Base of Operations:
Keystone City, Kansas
First Appearance:
Flash v.2 Annual #6 (Bloodlines, 1993)
Created By:
Mark Waid and Phil Hester
---
Nick Kovak grew up surrounded by organized crime, drawn to the glamor of success beyond the modest life his father scraped by honestly. After his father was killed in an "accident"—one for which Nick felt responsible—he fled that world. He enlisted in the US Army under the name Nick Kelly, and eventually joined the FBI. The FBI placed him back in his old life, as an undercover agent in the Keystone City Mafia. (Argus #2, 1995)
Kovak's life took a bizarre turn the night one of his "co-workers" discovered his identity. The man was about to pull the trigger on him when an alien monster burst in, killing the attacker. As Nick fled, he was attacked by another creature, which drained his spinal fluid, leaving him for dead.
Vision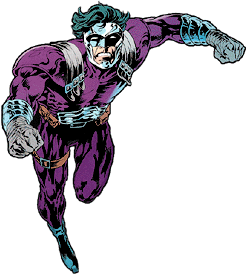 But Nick Kovak did not die. Instead, he awoke with the abilities to become completely invisible when in shadow and to see beyond the normally visible spectrum, from radar and microwaves on up through ultraviolet. Coupled with enhanced strength and reflexes, these abilities gave him an enormous stealth advantage at night. (Flash Annual #6, 1993)
Believing the Combine responsible for his attack, he donned commando armor and went to investigate, only to find that the same creatures were attacking there as well. After he and the Flash battled the creatures to save Linda Park (who immediately guessed his identity), Nick decided to keep his new identity and protect the city from the escalating mob war.
Argus came to rely heavily on his enhanced vision when a mob enforcer gouged out his eyes, blinding him to ordinary sight. He honed his skills, learning to see not only invisible forms of energy, but conceptual connections between objects. In time, his eyes grew back (Argus miniseries, 1995).
Bit Player
True to his powers, Argus has largely faded into the background since then, occasionally appearing during a crisis. He most recently surfaced as a victim of a meta-human organ-theft ring. He was drugged, his eyes surgically removed and transplanted. The operation left him entirely blind. Dr. Mid-Nite retrieved his eyes and, assisted by S.T.A.R. Labs, reattached them (JSA Classified #19–20, 2007)
Text by Kelson Vibber. Do not copy without permission.
---
"Undercover Angel" - Flash Annual #6 (Bloodlines: Outbreak) (1993), Mark Waid
"Light In Dark Part 2: Splashback" - Argus #2 (June 1995), Mark Wheatley and Allan Gross
Eye costume: Argus #1 (April 1995) - Phil Hester & Wayne Faucher
Standard costume: Flash (second series) #86 (January 1994) - Alan Davis and Mark Farmer
The DC Comics Encyclopedia (2004)
Flash Annual 6 (1993): "Undercover Angel" (Bloodlines: Outbreak), Mark Waid
Flash #86 (January 1994): "Rival Forces," Mark Waid
Flash #93 (August 1994): "Reckless Youth Chapter 2: Quick Study," Mark Waid
Showcase '95 #1–2 (January–February 1995): "Do the Clothes Make the Man?" Mark Wheatley and Allan Gross
Argus (6-issue miniseries, April–October 1995): "Light In Dark," Mark Wheatley and Allan Gross
Flash #124–126 (April–June 1997): Lead-in to Hell To Pay, Mark Waid and Brian Augustyn
Infinite Crisis Special: Villains United (June 2006): "A Hero Dies But One," Gail Simone (cameo)
JSA: Classified #19–20 (January–February 2007): "Skin Trade," Scott Beatty
Argus was one of a number of characters introduced in DC's 1993 annuals. Each Bloodlines story involved the series' lead hero encountering a survivor of an attack by the aliens. (Most victims died, but the survivors each gained different powers.) The "New Blood" characters went on to further guest spots and mini-series over the next two years, but only Hitman caught on with the readers.
Thanks to Anthony Harris for letting me know about the JSA: Classified appearance.