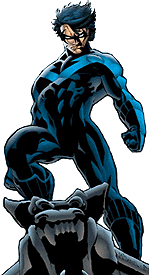 Real Name:
Richard John "Dick" Grayson
Other aliases:
Robin
Occupation:
Police officer
Former Occupations:
Private detective, circus acrobat
Known Relatives:
John and Mary Grayson (parents, deceased)
Base of Operations:
Blüdhaven
Group Affiliation:
Outsiders
Past Group Affiliation:
Titans
(founding member), The Flying Graysons
First Appearance:
(as Robin)
Detective Comics # 38
, 1940; (as Nightwing)
Tales of the Teen Titans #44
, July 1984
---
Young Dick Grayson, circus performer with The Flying Graysons, watched in horror as his parents fell to their deaths from a sabotaged trapeze. The boy was taken in by Bruce Wayne, who turned out to be Batman, Gotham's Dark Knight. Dick insisted on becoming his partner, and after intensive training became Robin, Boy Wonder.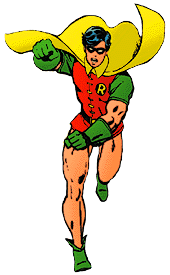 Robin was a founding member of the Teen Titans, most of whom were originally the teenage sidekicks of older heroes: Aqualad, Kid Flash, and Wonder Girl. Robin was the leader of the Titans through most of its incarnations. Over the years, his relationship with the Batman became strained. He kept pushing himself to be as good as Batman, but knew he never could be. Finally, concluding that Robin would "always be the back half of 'Batman and...'" he decided to complete the break and forge a new identity as Nightwing.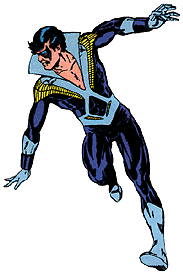 Nightwing eventually left the Titans. Returning to Gotham, he was called upon to be Batman while Bruce recovered from a debilitating spine injury. After Bruce's recovery, Nightwing worked sporadically with Batman and the new Robin, eventually graduating to become a solo costumed hero with a city of his own.
Text by Kelson Vibber. Do not copy without permission.
---
Current Costume: Nightwing (ongoing series) #2 (November 1996) - Scott McDaniel and Karl Story
Robin: New Teen Titans (first series) #1 (November 1980) - George Perez and Dick Giordano
Original Nightwing Costume: Who's Who (first series) #17 (July 1986) - George Perez
The Official Teen Titans Index #1 (August 1985)
Who's Who in the DC Universe #17 (July 1986)
Who's Who Update '88 #2 (September 1988)
Who's Who (loose-leaf edition) #14 (November 1991)
Batman Secret Files #1 (October 1997)
The Titans Secret Files #1 (March 1999)
Nightwing Secret Files #1 (October 1999)
Teen Titans/Outsiders Secret Files 2003 (December 2003)
The DC Comics Encyclopedia (2004)
Batman Allies Secret Files 2005 (August 2005)
52 Week 25 (October 25, 2006)
Flash #1 (June 1987), Mike Baron
Flash #81–83 (September–October 1993): "Back on Track Parts 2–4," Mark Waid
Flash Plus Nightwing (January 1997): "Doorway to Nightmare," Mark Waid and Brian Augustyn
Flash #142 (October 1998): "Get Me To The Church On Time," Mark Waid and Brian Augustyn
Flash 80-Page Giant #2 (April 1999): "The World's Oldest Teens," Tom Peyer
Flash 80-Page Giant #2 (April 1999): "Last Dance," Christopher Priest
(as Robin) Flash #151 (August 1999): "Territorealis," Joe Casey
Flash #159 (April 2000): "Whirlwind Ceremony," Mark Waid and Brian Augustyn
Flash #210–211 (July–August 2004): "Reconnected" and "Animal House," Geoff Johns
Flash #214–215 (November–December 2004): "The Secret of Barry Allen, Parts One and Two," Geoff Johns
Flash #228 (January 2006): "Finish Line, Part 2: The Summoner," Joey Cavalieri
Teen Titans (first series) (1966–1977)
The New Teen Titans / Tales of the Teen Titans/ The New Titans (1980–1994)
Recurring character in various Batman series
Nightwing (4-issue mini-series, 1995)
Nightwing (1996—)
The Titans (first series) (1999–2003)
The Outsiders (2003–2007)
The Titans (second series) (2008—)