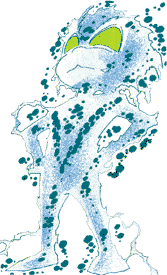 Occupation:
Defender of Kwyzz
Base of Operations:
The Planet Kwyzz
First Appearance:
Flash v.2 #136
(April 1998)
Death:
Sacrificed himself in the Ultimate Race (
The Flash (second series) #138
, June 1998)
See Also:
The Human Race
---
When Wally West was a child, he would turn his radio to what he called "Frequency X" and daydream about "Radioland"—a world populated by energy beings. Years later, he discovered that he hadn't been daydreaming. His "imaginary friend," Krakkl, Defender of the Frequencies of Kwyzz, really existed—and the two of them were forced to race each other through a four-dimensional course across space and time for the fate of their respective worlds. Ultimately, Krakkl sacrificed himself to add his own speed to Wally's, giving him enough of an edge to outrace instantaneous travel and save both their worlds.
Text by Kelson Vibber. Do not copy without permission.
---
"The Human Race Part 1: Radio Days" - Flash (second series) #136 (April 1998), Grant Morrison and Mark Millar
Flash (second series) #136 (April 1998) - Paul Ryan and John Nyberg
Flash #136–138 (April–June 1998): "The Human Race," Grant Morrison and Mark Millar