Left to right:

Trixster
Weather Warlock
Commander Cold (leader)
Top
Heatstroke
Mirror Monarch (not pictured)

Base of Operations: The 25th Century Court of Temporal Justice
First Appearance: Flash v.3 #1 (June 2010)

---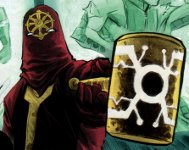 In the 25th century, a man known only as The Judge established the Court of Temporal Justice with one goal in mind: to erase crime from his era. He also established the Reverse-Flash Task Force, drawing inspiration for the names, weaponry and costumes from the legendary Rogues of Central and Keystone City. Also known as the Renegades, these police officers would train to battle their era's Reverse-Flash and pursue time-traveling criminals.
When the Mirror Monarch was killed, all the evidence pointed to Barry Allen, Flash of the 21st Century. The Renegades traveled back in time to arrest the legend, but things didn't go quite as expected. (Spoilers below.)
The Flash discovered that the Top had killed Mirror Monarch and framed him. His motive: Allen would have uncovered a secret about the Top's past. One of his ancestors had been a murderer...which would have caused him to fail the Judge's strict background checks. He had been able to alter the records due to a temporal instability in the early 21st century. After arresting the Top, the Court began investigating the instability.
Text by Kelson Vibber. Do not copy without permission.
---
Renegades: The Flash (third series) #1 (June 2010) - Francis Manapul
Judge: The Flash (third series) #6 (January 2011) - Francis Manapul
Flash #1–6 (June 2010–January 2011): "The Dastardly Death of the Rogues" Geoff Johns