At the comic store this week I actually flipped through the current issue of Green Lantern: Rebirth. And I was shocked to find that it made sense.
I've been avoiding the miniseries because, in general, I'm of the opinion that it's better to move on than to go back. Yeah, it took me years to warm up to Kyle Rayner as Green Lantern, but I'm not of the opinion that Hal Jordan is the one, true GL. That said, what they (DC Editorial) did to Hal was basically insane and spitting on their own character.
A decade later, DC is "correcting the mistake." And who does DC go to when they need to revamp or repair a hopelessly tangled character? Geoff Johns. He did it with the Flash's Rogues. He did it with Hawkman. Heck, he even tried to bring back Hal as the Spectre. And now he's straightening out the GL mess.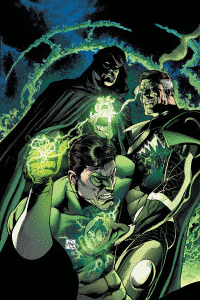 OK, here's the background you need to know: The Green Lanterns were a galactic police force, formed by aliens who became known as the Guardians of the Universe. Each GL had a power ring which, controlled by their will, would create anything they imagined (though generally green and temporary). The rings were charged from lantern-shaped batteries which themselves drew power from the Guardians' main battery on their home planet, Oa. Because the main battery had a "necessary" yellow impurity, the rings had no effect on anything yellow. The key requirements for a Green Lantern: a strong will and a complete lack of fear.
In the early 1990s, DC decided they needed to revamp the character and get rid of Hal. Really get rid of him, so it was clear it wasn't just a publicity stunt (like killing Superman, or breaking Batman's back). They gave writer Ron Marz something like 3 issues to make Hal go insane, wipe out as much of the GL mythos as possible, and hand the ring to a new character. They'd just destroyed Hal's hometown, so he tried to recreate it with the ring, killed off the rest of the Green Lanterns and most of the Guardians (somehow he missed the other two human GLs), and the last surviving Guardian handed the last remaining ring to a guy he saw in an alley. (No, really.) Incidentally, that ring had no weakness against yellow.
Hal spent the next few years as a villain called Parallax (because he had two rings), actually destroyed the universe at one point, and finally sacrificed himself to save the world in the crossover-of-the-year. Kyle, meanwhile, spent a lot of time learning the ropes, though at one point he was told he would one day surpass Hal because he knew something Hal did not: fear.
Somewhere along the line Kyle found another GL ring—one that could replicate itself—and started rebuilding the corps. (This included handing a new ring to John Stewart, now working with the Justice League). And Hal's soul has become bound to the Spectre, the spirit of God's Wrath.
So how are they untangling this?
In the distant past, a creature of pure fear came into being. It wiped out entire civilizations, creating more fear and feeding itself, until the future Guardians gathered together enough will and imprisoned it. Emotional energy has a spectrum: will appears green, and fear appears yellow. That creature became the "yellow impurity" in the main power battery for the Green Lanterns. To prevent anyone from trying to break it out, the Guardians simply allowed the rest of the universe to forget it over millions of years.
Eventually, it escaped, and corrupted—or perhaps took over—Hal Jordan. By the time Kyle got his ring, it was free—which was why his ring had no weakness against yellow. Now Parallax is completely free, able to control all the Green Lanterns through their rings, except for one: Kyle. One character said something like, "It's hard for fear to sneak up on you if you already know it." And thus the Sandman's prediction comes true.
Now, ordinarily, I'd look at "oh, he was possessed when he committed genocide" as a cop-out. From the little I've read, though, it's tied so thoroughly into the mythos that it makes more sense than the original story.
And that's not something I was expecting.