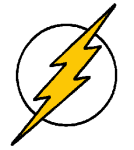 Last month, Comics Should Be Good ran a fan poll for the top 50 DC characters and top 50 Marvel characters. They've been posting the results over the last few weeks, finishing on Friday. The four main Flashes all made it to the top 50, and one even made it to the top 5.
#3. Flash: Wally West
#29. Flash: Barry Allen
#41. Flash: Jay Garrick
#42. Kid Flash/Impulse: Bart Allen (tied with Bizarro)
Master list of all winners. Profiles of all four Flashes (and dozens of fill-in, alternate, and one-offs) at Flash: Those Who Ride the Lightning.