Had a chance to run through all my Santiago Fire photos from the last few days with Katie and my parents, and they picked out a few favorites that I hadn't already posted.
This first one was Monday morning around 10:30, as I drove into the region covered by the smoke plume.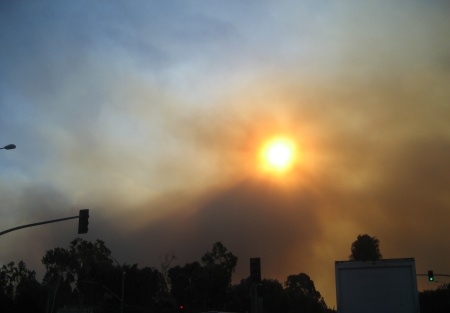 Just a few minutes later, I had parked at work, deep within that plume. The sky was a hazy orange-brown, and the sun was bright orange, as you can see looking up at this tree.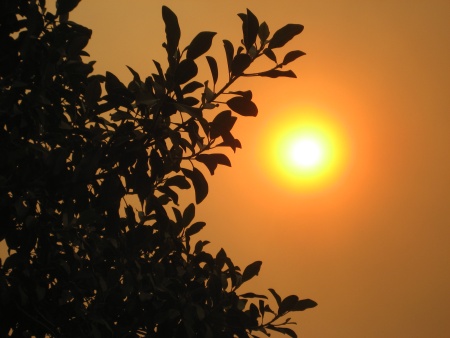 This next picture is yet another view of Monday's sunset, seen from the 405 near Sand Canyon. This shows more variation in color, with a distinct cone of bright yellow surrounded by red, bounded by gray on the sides and fading to blue above.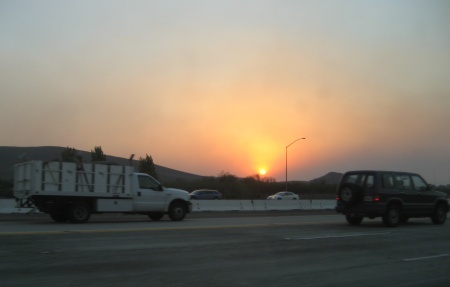 Finally, here's a view from the Quail Hill area on Tuesday just before sunset. This was taken from Knollcrest Park, roughly the same view as last month's lenticular cloud photos. This is looking across the Saddleback Valley toward the Santa Ana Mountains. The smoke has cleared enough to see silhouettes, though the light has faded too much to see any more detail. The large plume is rising from Mt. Saddleback, the highest peak(s) in the range. The sun is very close to setting: the houses nearest the ridge are already in shadow, with the next row still in light.