I was looking forward to checking out the aftermath of last weekend's "Century Crunch" bridge demolition (see the before photo), but for various reasons I didn't get a chance to really look at it until Thursday, when I finally felt up to walking down to the corner at lunch.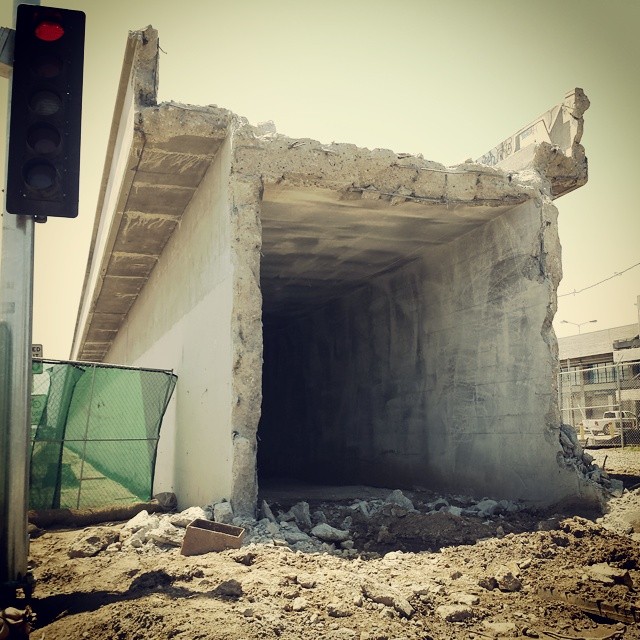 The most interesting part is the rise to the south of Century Blvd, where the remnants of the bridge come up to about 15 feet from the street. It's fenced off, but of course when you're walking by, the thin canvas they use doesn't completely block your view. I was able to get my camera lens between two pieces of canvas to get the image here. It's interesting that the ramp is hollow. I'm not sure what the normal design is, but I'd always thought that ramps like this were filled in with dirt, and that's the impression I'd gotten from various projects I've seen in progress. Perhaps railroad bridges are different than freeway bridges? Or perhaps they emptied it out when they tore out the span?
It makes it look like the entrance to a tunnel, sloping down into the earth.

The intersection itself looks strangely open, and seems a lot brighter than it did before, now that the span across the road is completely gone. The bridge was neither tall nor particularly wide, though they did take out several trees. Meanwhile they restriped the road and moved the traffic signals around. The WallyPark structure in the background, the lamp post with the banner, and a few background trees are the only points of reference between the before and after shots. (And the potholes, but they're out of frame here.)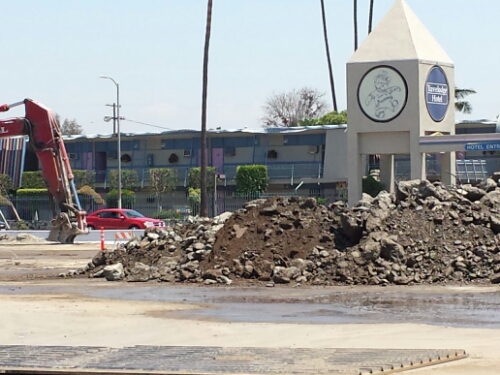 Work continues on the north side of the street, where they've been breaking down the rise for at least two weeks, sorting piles of concrete and twisted rebar in a fenced-off parking lot.
Once the bridge is fully demolished, they can start building the Metro station for the future Crenshaw Line (opening around 2019, I think). It'll be an aerial station, built as a bridge, but the old structure was too narrow to incorporate into the new one. It's going to keep snarling traffic for a while, I suspect, but it'll be good for transportation once it's completed.
Even so, I think I'll be driving PCH home from work for a while.