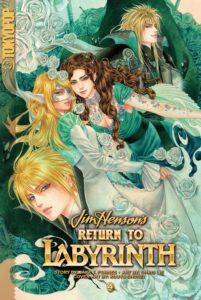 Back in 2005, Tokyopop started working on manga-style graphic novels based on Jim Henson's Labyrinth and The Dark Crystal. They released one volume of three planned for Legends of the Dark Crystal, taking place centuries before the movie, and two volumes of four planned for Return to Labyrinth, focusing on Sarah's brother Toby as a teenager…and just sort of stopped. After two years, the third volume of Return to Labyrinth eventually came out, but it was unclear when the final volume would arrive.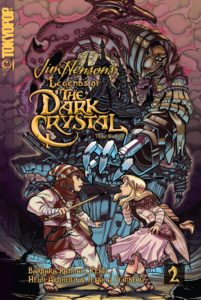 Earlier this year I noticed an August release date for the conclusion of Return to Labyrinth. I checked a few days ago and was surprised to find that not only was it actually available…but so was Legends of the Dark Crystal volume 2. (Interestingly enough, the main thing I can glean from the Return to Labyrinth v.4 reviews on Amazon is that the Jareth/Sarah shippers hated it.)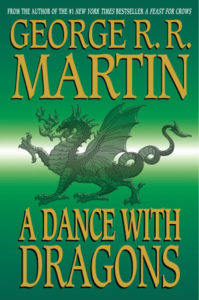 Of course, when you start thinking about long-delayed fantasy books, one in particular always comes to mind: George R.R. Martin's A Dance With Dragons, the long-awaited fifth book of A Song of Ice and Fire. It's already been nearly five years since the last book, and while the cover art has been ready for most of that time…there's no sign of the book being finished anytime soon. This is the book that indirectly prompted Neil Gaiman's (in)famous essay in which he stated, "George R.R. Martin is not your bitch." The really funny thing? People are reviewing the book on Amazon. Actually, they're reviewing the wait for the book!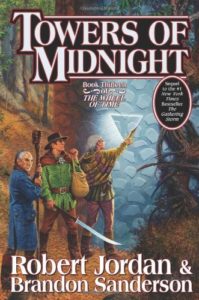 In addition to fan frustration, some readers are concerned that George R.R. Martin might follow in the footsteps of another fantasy author and die before he completes his magnum opus. Robert Jordan, fortunately for his fans, was already working on the conclusion of his epic, The Wheel of Time, and left extensive outlines and notes. Brandon Sanderson has been writing a trilogy to conclude the series based on Jordan's notes and partial manuscript. The Gathering Storm came out last year and was surprisingly good. On Tuesday, Dragonmount reported that Sanderson has completed the final draft of Towers of Midnight, and is on track for its November 2 release. The final book, A Memory of Light, should be out next year.