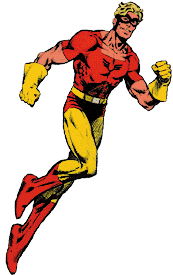 Real Name:
Johnny Chambers
Known Relatives:
Professor Ezra Gill (guardian, deceased),
Libby Lawrence
(ex-wife),
Jesse Chambers
(daughter)
Formula:
3X2(9YZ)4A
Past Group Affiliation:
All-Star Squadron
First Appearance:
More Fun Comics #71
(September 1941)
Origin:
c. 1940
Death:
Merged with the
Speed Force
during battle with
Savitar
(
Impulse #11
, February 1996)
See Also:
Jesse Quick
---
Johnny Chambers' guardian, Professor Gill, developed a formula from information found in the tomb of an Egyptian king that would give a person the power to move at superhuman speed. The formula represents a fourth-dimensional construct, and acts as a mental focus to channel the energy of the speed force (not that Johnny would ever admit that). Gill told Chambers the formula so that he could fight injustice. Chambers became crimefighter Johnny Quick.
Like Jay Garrick, he fought in World War Two as a member of the All-Star Squadron. In 1942 he married fellow squadron member Liberty Belle. Their daughter, Jesse, also uses this formula to achieve super-speed.
Johnny Quick retired later than Jay Garrick did, but has also come out of retirement to face great threats. He had a longstanding friendly conflict with Max Mercury, never believing in the "mythical speed force," until the battle with Savitar, in which he finally felt its call and left this mortal coil.
Text by Kelson Vibber. Do not copy without permission.
---
Who's Who (first series) #11 (January 1986) - Kerry Gammill and Bruce Patterson
Modern Origin: All-Star Squadron #65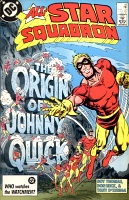 More Fun Comics #71 (September 1941): "The Riddle of the Crying Clown," Mort Weisinger
All-Star Squadron #65 (January 1987): "The Origin of Johnny Quick," Roy Thomas
Who's Who in the DC Universe #11 (January 1986)
The DC Comics Encyclopedia as Quick, Johnny (2004)
More Fun Comics #71–107 (1941–1946)
Adventure Comics #103–207 (1946–1954)
All-Star Squadron (1981–1987)
(Does not include reprinted Golden-Age stories.)
DC Special Series #11: Flash Spectacular 1978: "Beyond the Super-Speed Barrier," Cary Bates
Flash #76–79 (May–July 1993): "The Return of Barry Allen Parts 3–6," Mark Waid
Flash #97 (January 1995): "Terminal Velocity Mach 3: The Other Side Of Light," Mark Waid
Flash #108–110 (December 1995–Feburary 1996): "Dead Heat," Mark Waid
Impulse #10–11 (January–February 1996): "Dead Heat" Mark Waid
Flash Annual #11 (1998): "Haunts," Brian Augustyn
Infinite Crisis #4 (March 2006): "Homecoming," Geoff Johns