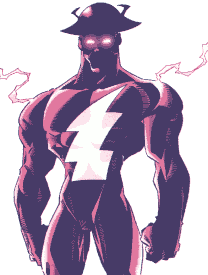 Real Name:
Dr. Edward Clariss
Base of Operations:
Keystone City, Kansas
Hair:
White
First Appearance:
Flash Comics #104
(February 1949)
---
Shortly after the Flash's debut, Dr. Edward Clariss, a chemistry teacher at Midwestern University, overheard a student "speculating" that his superhuman speed might be related to chemicals in one of the labs. An explosion in the lab had since damaged many of the supplies, but he found a sample of the hard water formula that had indeed given the Flash his speed and began working on a similar formula. Laughed at by his fellow scientists, he left for Europe where he gained fame... but for other discoveries.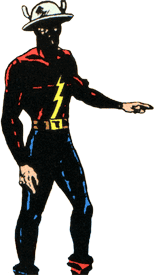 Bitter at being rejected by the scientific community, he eventually took his temporary speed formula, returned to Keystone City, and hired criminals to form a super-speed gang and draw out the Flash. Calling himself the Rival, he donned a darker version of the Flash's costume—with a mask—and tracked the Flash down. The altercation was brief, ending when Clariss' formula ran out. His identity revealed, Clariss was arrested.
A few months later, his speed returned, and he broke out of prison. Pursued by the Flash, he broke lightspeed... and vanished. In retrospect, it seemed he had run into the Speed Force.
Decades later, he reappeared with the new Injustice Society, having been brought back from the Speed Force after 50 years by Johnny Sorrow—in exchange for killing the Flash (JSA #16, 2000). Because his powers had been temporary, the Speed Force ate him alive for half a century, driving him from simple criminality to insanity. Once out, he cut a bloody swath across America, spelling out his name on the map, enticing the Flash to race him into the Speed Force. Jay escaped only by absorbing the Rival's speed... leaving what remained of the Rival even more bent on revenge.
The Rival, now pure energy, was last seen in possession of Max Mercury's body, escaping in a time sphere to a unknown era.
Text by Kelson Vibber. Do not copy without permission.
---
"The Rival Flash!" - Flash Comics #104 (February 1949), Robert Kanigher*
"Injustice Be Done" - JSA #16–20 (November 2000–March 2001), David S. Goyer & Geoff Johns
Energy: Impulse #88 (September 2002) - Carlo Barberi and Terry Austin
Original: Flash Comics #104 (February 1949) - Carmine Infantino and Frank Giacoia
Flash Comics #104 (February 1949): "The Rival Flash!" Robert Kanigher* (reprint info)
No Silver-Age appearances (unless you count reprints).
Flash #165 (October 2000): "Wonderland Chapter 2: The Lightning Rod," Geoff Johns (alternate universe)
JSA #16–17 (November–December 2000): "Injustice Be Done" Parts 1 and 2, David S. Goyer & Geoff Johns
Impulse #88–89 (September–October 2002) "Running Out of Time" and "...Godspeed" Todd Dezago
*"The Rival Flash" is reprinted in The Flash (first series) #211, The Flash Archives Volume 1 (not in The Golden Age Flash Archives!) and in Showcase Presents: The Flash Volume 1.