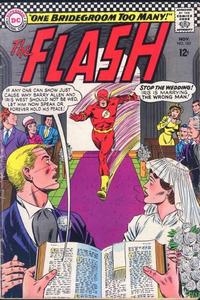 Over the past few weeks I've been going through the Silver Age Flash series, cataloging character appearances. I'm almost done – only 25 issues left – but it reminded me of something:
Why is it that super-hero weddings are almost always interrupted by super-villains – even when the hero's identity is secret?
Is it just that readers expect a story with some sort of fight in it, and if it's just a wedding they'll be disappointed?
Consider these examples:
And it's not just the main characters who get this treatment:
And before you think this is limited to the Flash:
…or that it's limited to comic books:
Getting married "off-camera" seems to be the best bet: Ralph (Elongated Man) and Sue Dibny, Jay (Flash I) and Joan Garrick, Johnny Quick and Liberty Belle, The Tornado Twins (Barry & Iris' children) and their spouses – the weddings you hear about instead of seeing never seem to be crashed by crazies with super-powers or ray guns.
In fact, of the ones I've read, right now I can only think of one "on-camera" comic-book wedding that hasn't been stopped or delayed by a villainous attack: Wonder Girl (Donna Troy) and Terry Long in The New Teen Titans. Wolfman & Perez actually took the risk of focusing a double-sized issue on just the wedding – but then the series was as much about the way the characters interact as it was about fighting evil.