We went out to see Kooza last Thursday (January 21) in the middle of the biggest storm to hit Southern California in ages. Floods, mudslides, tornadoes, lightning, high winds, power outages…and these tickets had been sitting in my desk since sometime last fall.
Fortunately, we managed to miss the worst of the storm. There was a lull in the early evening, and the cloud layer broke up enough that I could see the moon as I left work. We only hit rain during the post-dinner drive to the show. One moment: clear. The next: lots of brake lights ahead of us. The next: intense rain!
As near as I can tell, the storm passed through just north of the grandiosely-named Great Park in Irvine, where the circus had set up their tent. We could see lightning flashes in the distance, and it was cold and wet and windy, but the sky above was clear. So we reached the show against the backdrop of the moon, Orion and Sirus, lightning, and a giant orange balloon.
Night at the Circus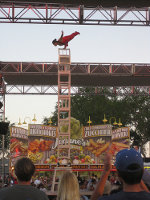 The show was impressive. I think this is the sixth Cirque du Soleil show I've seen* and they've all been good. A few acts did look kind of familiar, like the guy balancing on a 20-foot-tall tower of chairs (we'd seen a similar act at the OC Fair last summer), but even those acts maintained the "how the heck do they do that?!" factor. A contortionist act reminded me of someone's idea back in the early 1990s, never realized as far as I know, to get contortionists to play non-humanoid aliens on science-fiction shows. (These days, you can just use CGI to portray any body structure you want.)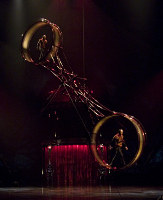 The centerpiece of the show was sort of a giant double human hamster wheel. Two mesh wheels, each with a diameter of perhaps 1½ times the height of the performers, are attached to either end of a scaffolding, which is then suspended from the ceiling so that the entire structure can rotate. Then two performers proceed to run and jump inside the wheels as the whole thing spins around in the air…and then they start running around the outside of the wheels! According to the Cirque website, it's called the Wheel of Death.
The clowns seemed more prominent in this show than in the others I've seen, to the point where they basically had two MC characters: one serious, one comedic.
Oddly enough, the show features a rainstorm. There was enough fake thunder and lightning that we probably didn't recognize the real thing a few times!
*I've been trying to remember exactly which shows I've seen, and what I can come up with are:
Saltimbanco, early 1990s
Dralion, 1999 or 2000
Zumanity, 2006
O, 2007
Corteo, 2008?
And now Kooza, 2010
I keep thinking there's one more, but I just can't bring it to mind.