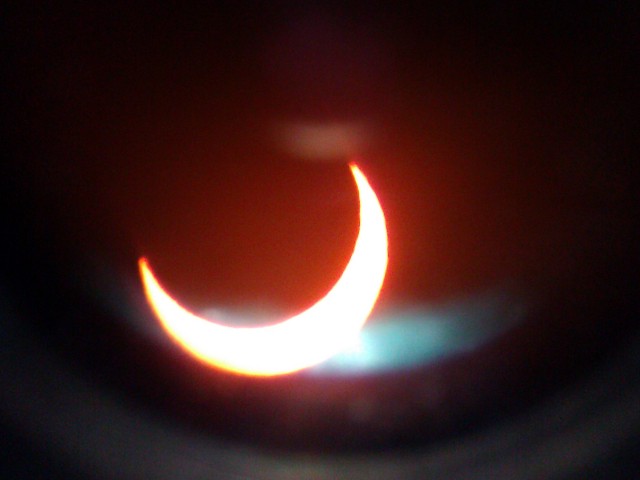 I had several plans for viewing today's solar eclipse, depending on the weather. As the hour approached and clouds loomed in the west, I decided that my best bet would be to get above the cloud cover, and drove up into the hills to Del Cerro Park at the top of the Palos Verdes peninsula.
I'm glad I did, because a lot of other people had the same idea.
Individuals, couples, families, groups of friends, groups from schools — and everyone had a different way to see the eclipse: pinhole cameras, binoculars projecting on cardboard, welding helmets, "eclipse glasses" and more. There were also people who were just out for a day at the park, and wanted to know what was going on.
If J had been a few years older it would have been a family event for us too, but at a year and a half, I don't think I would have been able to explain anything beyond "don't look at the sun." A partial eclipse is easy to miss if you're not paying attention.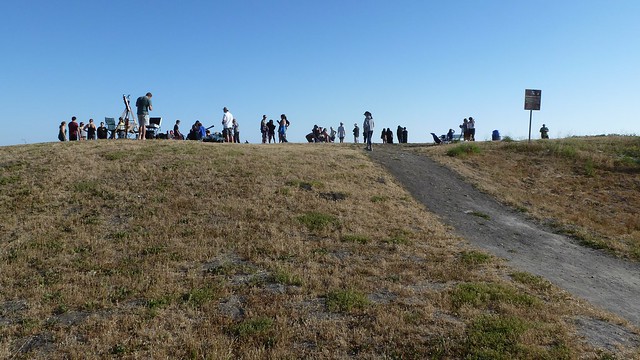 I'd cobbled together a pinhole camera the day before from two Amazon boxes, a sheet of paper, a sheet of aluminum foil, and lots and lots of packing tape. I actually started with just one box and I decided the image wasn't big enough, so I grafted on a second. Even then it was only about 3/8″ across, but when testing it I could see the edges of clouds drifting across the sun, so I figured it would work. It did. Continue reading →