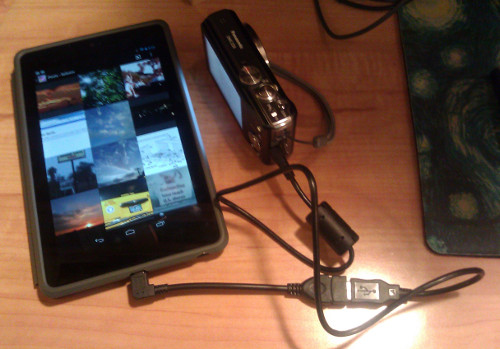 All right! I've verified that my Nexus 7 can read photos from my camera!
The tablet supports a subset of USB OTG (On The Go), which also lets it connect to keyboards, mice and external storage. It only has a micro-USB port, which means I had to get a $1 USB cable adapter, but for that price? Big deal.
If I put the camera in PTP mode, it can import directly to the gallery. If I put it in PC mode, I can use the Nexus Media Importer app. And I can use FlickFolio to upload multiple photos to Flickr at once.
The next time we go on vacation (OK, the next time we go to Comic-Con — I don't mass-post vacation photos during a trip), I won't have to hog the laptop just to upload photos!
This is something I've wanted the ability to do for a long time, since before Apple redefined tablet computing and I was considering getting a netbook. And unlike a netbook, which I would have only used while traveling, I use the tablet every day.
On the downside, even though I won't be competing with Katie for laptop time, I'll be competing with J for tablet time….
Photo: Why I still need a good camera in addition to my phone. OK, that's a bit of an exaggeration: The phone isn't really that bad when used under good lighting, or with the flash (though the Lumix is a lot better, and has an awesome optical zoom). It's just that the picture with the flash, while sharp, showed the smudges better than the images on the screen.