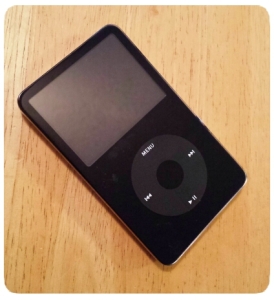 As I moved our iTunes library last week, I worried that the new system might not be able to sync with the old iPod, but relaxed when I saw that Apple still sold the click-wheel iPod Classic. They discontinued it a few days later, but fortunately we were able to sync the old devices.
Why do I prefer the older iPods with physical buttons and tiny screens?
Because I listen to music in the car, and a touch screen is a terrible interface for quick actions while driving.
While touch screens are better for menus, searches, finding albums, playlists, artists, and just about anything else, they're actually dangerous for driving. A physical control of some sort is best for any action you might have to take while behind the wheel of a moving car.
Pause/Play, Skip and Volume. Those are the key things you want to be able to do with music without thinking too much about where you're reaching, or taking your eyes off the road. (Especially if you have a mix of quiet and loud songs.) Volume's on the dashboard, but it's so much easier — and safer — to hit an actual button for pause/play or skip than to jab at the touch screen until you get it right.