Culled from the residents of Arroyo Vista House 1010 during the 1998-1999 school year.
---
Fall 1998
It's a National Geographic Special: Stalking the Wild Conversation, with Katie Foreman.

Gary, 26-Oct-1998

I might as well get something accomplished while I'm not sleeping.

Alex, 24-Oct-1998

It would really suck to be a vampire because you'd always have to get invited in to go to the bathroom.

Brian, 23-Oct-1998

I think Jason's flashing you again.

Jenny, 10/?/98

Real men do it with their eyes open.

Alex, 26-Oct-1998

The punk rock kids, the punk rock kids...

Kristen, 25-Oct-1998

But that's not the worst part of my job...

Kristen, 25-Oct-1998

Midterms on good luck?

Kelson, 26-Oct-1998

Witness the thing that has chicken in it!

Angela, 26-Oct-1998

Lockers don't kill people. People kill people.

Alex, 16-Oct-1998

Ah, couscous ripening under a fluorescent light.

Brian, 27-Oct-1998

There is the other side of here

Brian, date unknown

Would you like some fruit?

Jenny, frequently

You can't really choose the nationality of your roommate.

Jenny, 1-Nov-1998

I've never survived a Kaba shooting before.

Katie, 2-Nov-1998

I actually fell asleep on that anteater.

Katie, 2-Nov-1998

Now why would someone want to coat a hair with cyanide?

Kelson, 16-Nov-1998

I still have to pull Madrigal Dinner out of my ass.

Katie, 17-Nov-1998

When was the last time you exercised [sic] your demons?

Brian, 18-Nov-1998

Have you been sniffing chives again?

Anne, 21-Nov-1998
Alex, 6-Dec-1998 (wait, what?)

There's so many levels of sex in that one I can't take it.

Alex, 6-Dec-1998

"Holy shit, Scatman!"

Brian, 6-Dec-1998

It's half past cheesecake.

Brian, 6-Dec-1998

Beware of the warmification of pasta servers.

Kelson, 7-Dec-1998

Yeah, but the garbanzo beans aren't going to light themselves on fire.

Kelson, 20-Dec-1998

I have a camera in my backpack, but you'd have to be shooting through my head.

Kelson, 20-Dec-1998

Which one of us is invisible? It's gotta be me, because I can see all of you.

Alex, 22-Dec-1998

---
Winter 1999
"I like my hearing. It's my only good sense."
"I don't have any good sense..."

Brian & Angela, 2-Jan-1999

But I love choking my arm.

Katie, 7-Jan-1999

You're wearing his sock in your hair?

Angie, 11-Jan-1999

Well, Merissa, I gotta go, because. . . you're sitting right next to me and I feel stupid.

Po (on the phone), 20-Jan-1999

I can be gay and not be gay.

Atul, 20-Jan-1999

Brian, you are very observant. You're frightening me.

Merissa, 20-Jan-1999

No, there is nothing walking around in the sink.

Katie, 20-Jan-1999

You'd be ugly too if you had people lying on you off and on for years.

Brian (in reference to 1010 couch), 3-Feb-1999

It's fun, though! It separates myself from... my other self.

Po, 9-Feb-1999

Here, let me hit you with my old lab.

Jenny, 15-Feb-1999

Come on, guys - I just hit my head on the floor, give me a break!

Angela, 16-Feb-1999

He's a hunka hunka burnin' Gary.

Angie, 23-Feb-1999

The Psycho Sloppy Slacker ChickTM

Angela, 24-Feb-1999

That decade when the third digit started with an 8.

Kelson, 26-Feb-1999

There's no such thing as Crispy Tetris.

Katie, 1-Mar-1999

Jenny stole my bowling fairies!

Emily, 6-Mar-1999

We went to France and the best part of it was going to Italy.

Alex, 9-Mar-1999

That's like a sugar cube of salt!

Kelson, 15-Mar-1999

---
Spring 1999
I don't know if I can eat it, but I know I want... Britain.

Angela, 31-Mar-1999
Katie, 5-Apr-1999
Brian, 5-Apr-1999

It's an inn! The out is out on In-N-Out!

Katie, 8-Apr-1999

I've heard of that before, but I've never seen it.

Stayover student, 8-Apr-1999

"There's a lot of things you shouldn't do with broccoli."
"Like make Jell-O?"

Katie and Anne, 13-Apr-1999

The 1010 Twister Tourney. Bare-ass naked.

Alex, 15-Apr-1999

Insert Tab A into... holy crud!

Kelson, 16-Apr-1999

Yay! Anastasia! With Miracle Grow-Hair Woman!

Emily, 16-Apr-1999

How do you get "high?"

Merissa, 21-Apr-1999

I want a satanic picture of Angela!

Angie, 21-Apr-1999

That would require me remembering the future.

Kelson, 26-Apr-1999

Brooke, pick my nose or something.

Matt, 3-May-1999

I'm really pissed at the media here. I can't even warp myself properly.

Alex, 3-May-1999

Now I feel like staring at the hamster.

Anne, 5-May-1999

I don't get much sfatisaction [sic] from blowing my nose.

Katie, 8-May-1999

Hey, this thing has molecules in it!

Emily, 6-May-1999

I will not sink to bologna.

Katie, 10-May-1999

It's nine o'clock. What's the fucking for?

Alex, 12-May-1999

I'd like a hamburger . . . . hold the goat.

Brian, 12-May-1999

The lawnmowers are running for their lives!

Alex, 12-May-1999

I guess I'm agnostic about Eitan.

Alex, 12-May-1999

"So when did you start believing in Eitan?"
"Oh, I guess when he came by and whacked me on the head."
"What did he whack you on the head with?"
"Wouldn't you like to know?"

Eitan, Brian, and Angela, 12-May-1999

"We're talking about musicals."
"We're talking about buggering."

Gary & Emily, 16-May-1999

Oh my God, it's the sacred symbol of Magumbah! Or something like that.

Kelson, 16-May-1999

"The grocery store, the grocery store..."
"When it comes to fun, nothing is more
Than going down to
The grocery store."

Angela & Alex, 19-May-1999

A whole duckful?

Alex, 23-May-1999

Can't go wrong with the undead, that's what I always say.

Gary, 24-May-1999

I need to wash the cheese out of my nails... that's a weird thing to say.

Katie, 24-May-1999

Now with more phallic-y goodness.

Gary, 24-May-1999

So can I go raid 1006 for my pot now?

Katie, 28-May-1999

Is that a lightsaber in your pocket, or...

Katie, 28-May-1999

No, "apparelfixated" does not work!

Katie, 28-May-1999

"You're not a resident!"
"But he had SEX on the Scrabble board!"

Kelson & Alex, re: Eitan, 28-May-1999

I want to see you naked, Brian.

Alex, 28-May-1999

"Katie's here to save us!"
"From what?"
"My lack of CHP-ness."

Angela, Katie, and Anne, 16-Jun-1999
Continue to the 1999-2000 school year...

Notes
A group of us were hanging out and talking about random stuff, including the game of appending "in bed" to the end of fortune cookie messages. (Consider something like "You will travel far and meet interesting people... in bed.") Earlier in the conversation, Alex had explained how he and some of his friends would use the phrase "I dig that with a massive backhoe." At one point he also said, "Things are always more interesting when you set them on fire."
Inevitably, we managed to put all three phrases together:
"I dig that with a massive backhoe."
"In bed."
"And set it on fire."
"The Flaming Backhoe Bed LauncherTM!"
Alex and Angela had baked a cake and decorated it with plastic World War II soldiers and flags, placing each nation in a different corner of the cake.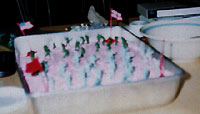 Brooke was standing behind Matt with her arms poking through his, doing the "I have four arms" routine. 'Nuff said.