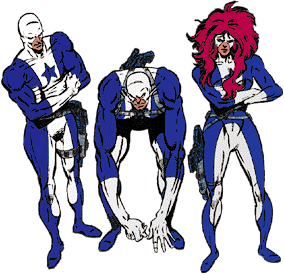 Real Names:
Boleslaw Uminski, Gregor Gregorovich, Christina
First Appearance:
Flash v.2 #7
, December 1987
Origin:
10–15 years ago (after Barry)
---
Inspired by a daring rescue at sea by the second Flash, Russian scientists Krulik and Pyotr Orloff attempted to duplicate his super-speed abilities using steroids, electrode implants, and gene splicing. They did not agree completely on either method or purpose. Krulik, after secretly testing the unperfected serum on himself, began tests on three human children. Shortly afterward, he was killed by his own metabolism. Dr. Orloff then took care of the training of the children to ensure that they did not suffer the same fate (Flash #19).
The first subject, Boleslaw, could run nearly 700 mph. Gregor, the second, could live comfortably at that speed. Christina was able to break the sound barrier. Unfortunately, the process that gave them their speed and abnormal strength also left them emotionally unstable and intellectually stunted. Called Blue Trinity, the three became agents of the Soviet military.
When the third Flash came to enlist Dr. Orloff's aid in saving Jerry McGee's life, Blue Trinity was sent to prevent him from leaving. They failed, also battling their successors, Red Trinity, but pursued Flash and Orloff to the United States (Flash #7–8). There they worked briefly for the Manhunters, who sold them off to Vandal Savage, who was then developing the super-speed drug, Velocity 9 (Flash #12–15). Boleslaw, misidentified as Sergei Stolypin, escaped and attempted to abduct Orloff. Gregor was left as bait in a trap for the Flash. Christina remained with Savage for some time. With the collapse of the Soviet Union, the whereabouts of Boleslaw and Gregor remain unknown.
Text by Kelson Vibber. Do not copy without permission.
---
"Blood Ties" - Flash (second series) #19 (December 1988), Hank Kanalz
Flash (second series) #7 (December 1987) - Jackson Guice and Larry Mahlstedt
Flash #19 (December 1988): "Blood Ties," Hank Kanalz
Who's Who Update '88 #1 (August 1988)
Flash #7–8 (December 1987–January 1988): "Red Trinity" and "Purple Haze," Mike Baron
("Sergei"/Boleslaw): Flash #16 (September 1988): "The Adventures of Speed McGee Part 1," William Messner-Loebs
(Gregor): Flash #17–18 (October–November 1988): "The Adventures of Speed McGee Parts 2–3," William Messner-Loebs
Flash #19 (December 1988): "Blood Ties," Hank Kanalz
See Christina's entry for her solo appearances.