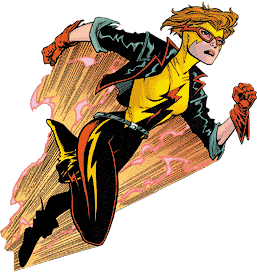 ---
A fragment of a future family tree identifies Wally West's daughter as one Iris West II, a.k.a. Flash IV. The page is torn where it would have revealed her mother (Flash Secret Files #1, 1997). She has been hinted at by her namesake in the biography of the Flash, and has joined the 1000-year battle against Cobalt Blue. Since then, Wally's daughter Iris has been born, but details of her life so far do not match.
Life in the Kingdom
Iris' father always wanted her lazy, shiftless brother Barry to follow in his footsteps. Iris herself (both had inherited their father's speed) was perfectly willing to take up the mantle, but her father would never recognize her. In his mind, she was the heir to Iris West I, and Barry the heir to Barry Allen.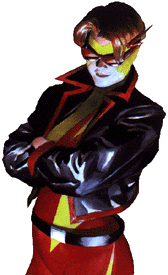 In the grim time chronicled in the story Kingdom Come, Iris becomes involved in the great battle for the future of superheroes, and ultimately the world, siding with Bruce Wayne as she and others infiltrate Lex Luthor's Mankind Liberation Front. (Kingdom Come, 1996)
In the time after the Kansas disaster, Iris, like most superheroes of the age, turned her efforts to helping humanity: she volunteered at hospitals and such as a super-speed courier. After finally convincing her father that she could, indeed, be the one to carry on, she traveled back in time with Nightstar, Offspring and Ibn al Xu'ffasch to our present in an effort to preserve their timeline in the face of alteration by Gog and by their own Superman, Batman,and Wonder Woman. (The Kingdom, Feb 1999)
Iris later met several dozen speedsters across a thousand years of history as she joined the fight against Cobalt Blue (Flash #146–149: Chain Lightning, 1999).** She also teamed up with fellow second-generation Titans Nightstar, Darkstar, Red Hood and Aquagirl to rescue Troia from Dark Angel. In the process they traveled through Hypertime to an alternate past (the mainstream DCU) and worked with the Titans (The Titans #23–25, 2001).
Text by Kelson Vibber. Do not copy without permission.
---
"Quick Fix" - The Kingdom: Kid Flash (Feb. 1999), Mark Waid
"Up In The Sky" - Kingdom Come #3 (1996), Mark Waid
Family Tree - Flash Secret Files #1 (1997), Mark Waid
Full: Flash 80-Page Giant #2 (April 1999) - Ron Lim & José Marzan, Jr.
Painted: Kingdom Come #3 (1996) - Alex Ross
The Kingdom: Kid Flash #1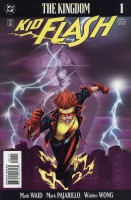 Flash Secret Files #2 (November 1999)
Kingdom Come #3–4 (1996), Mark Waid
The Kingdom: Kid Flash (Feb. 1999): "Quick Fix," Mark Waid
The Kingdom: Planet Krypton (Feb. 1999): "Haunted," Mark Waid
The Kingdom #2 (Feb. 1999): "Mighty Rivers," Mark Waid
Flash #143 (December 1998): "Like Wildfire," Mark Waid and Brian Augustyn
Flash #146–149 (March–June 1999): "Chain Lightning Parts 2–5," Mark Waid and Brian Augustyn
Flash 80-Page Giant #2 (April 1999): "Successionary Modern," Joe Casey
The Titans #23–25 (January–March 2001): "Who Is Troia?" Jay Faerber
Shortly before Angela Margolin first appeared, several people contacted me to say that, according to the Kingdom Come Slipcase Edition (which is a bit out of my own budget), Iris West II's mother would be Angela Margolin. About a month later, she showed up in The Flash #143. However, (a) Angela got involved with Walter, not Wally; (b) she couldn't follow him when he left; and (c) Wally married Linda. To further confuse matters, the Kingdom Come novel refers to this Kid Flash as "Park West," implying—in contradiction to the notes in the slipcase edition—that her mother was actually Linda. (Of course, she also dies in the novel, which contradicts The Kingdom.) The Kingdom: Kid Flash doesn't help matters; Barry and Iris' mother is long gone, the one family photograph is sitting behind a lamp where her face is obscured, and she's referred to only as "Mom." On the other hand, "Wally's" eyes appear to be brown...
In Flash #225 (2005), Linda gave birth to twins, a boy and a girl. They were named Iris and Jai, and appear to have different powers than the standard speedster set (All-Flash #1, 2007).
Since Infinite Crisis and 52 (2006–2007), an alternate universe dubbed Earth-22 has appeared that is very similar to the world of Kingdom Come. It might be simplest to say that this Iris is the Earth-22 version of the "New Earth" Iris.
**It has also been suggested that the Iris West appearing in "Chain Lightning" is not from the same timeline as the one in Kingdom Come and The Kingdom. (It has even been suggested that those two stories might cover different timelines.) While it is clear that the Kid Flash who appeared in "Who Is Troia?" was the one from The Kingdom, it is unclear which version appeared in the second Flash 80-Page Giant (though her father's eyes being green implies the main-timeline version).