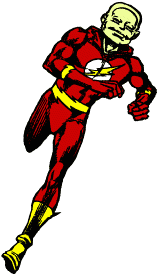 Real Name:
Kryad
Base of Operations:
98th-Century
Earth
Hair:
None
Eyes:
Black?
First Appearance:
Flash #309
(May 1982)
Origin:
98th Century
Flashes:


---
In the 98th century, after all humans had become telepathic, a menacing creature invaded. This creature fed off of the humans' mental powers, gripping everyone nearby in an agonizing, fatal fever which, given time, would wipe out everyone on the face of the Earth!
A history buff named Kryad, hoping that the legends of the 20th century heroes were true, traveled into the past to obtain Green Lantern's ring. Discovering that the hero was off-planet, he instead settled on stealing the Flash's speed, though the process would cost his life. Escaping from Kryad's trap, the Flash suggested instead that they go back just a few more years, to the night Barry Allen was struck by lightning, and use the chemicals from his discarded lab clothes instead.
With his newfound super-speed, and many of the Flash's tricks read from his mind, Kryad returned to his era to battle the menace. He succeeded, but sacrificed his own life to save the world.
Text by Kelson Vibber. Do not copy without permission.
---
"How Do You Kill A Legend?" Flash #309 (May 1982) - Cary Bates
Flash #309 (May 1982) - Carmine Infantino and Dennis Jensen
Flash #309 (May 1982): "How Do You Kill A Legend?" Cary Bates