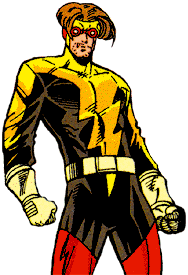 Real Name:
Unknown
Known Relatives:
Sela Allen
(daughter), unnamed wife (deceased)
Base of Operations:
Central City, Earth
First Appearance:
Flash v.2 #146
(March 1999)
Death:
At the hands of
Cobalt Blue
in 2231
Flashes:


---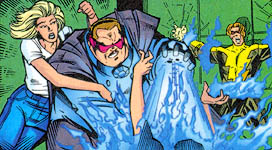 This Flash has apparently met an older Max Mercury several times. Through a paradox of time travel, the first time Max met him was the last time he met Max. Months earlier, Cobalt Blue had captured him and his family. He was forced to watch as Cobalt Blue killed his wife and crippled his daughter. At the time of Max's arrival, the Flash had finally caught up with Cobalt Blue and extracted his vengeance.
He had killed him. Unfortunately, a passing child picked up the gem and was consumed with the Thawne rage and power. This Cobalt Blue took a life for a life, killing him, one of the two Flashes destined to be extinguished by the Cobalt Blue flame.
Text by Kelson Vibber. Do not copy without permission.
---
"Chain Lightning Part 2: Time Like a River..." - Flash (second series) #146 (March 1999), Mark Waid and Brian Augustyn
"Chain Lightning Part 3: Shooting the Rapids..." - Flash (second series) #147 (April 1999), Mark Waid and Brian Augustyn
The Flash: The Flash (second series) #146 (March 1999) - Paul Pelletier and Vince Russell
Cobalt Blue's Vengeance: The Flash (second series) #147 (April 1999) - Paul Pelletier and Vince Russell
Flash #146–147 (March–April 1999): "Chain Lightning Parts 2–3," Mark Waid and Brian Augustyn